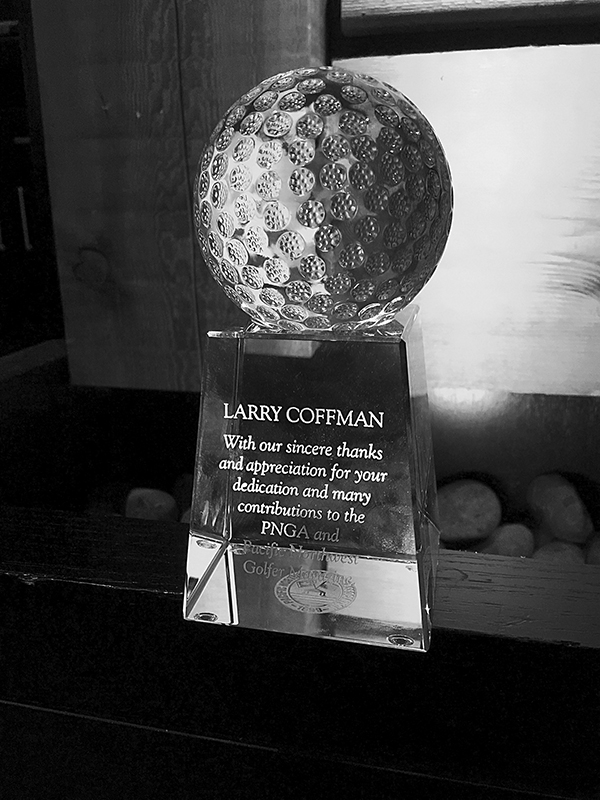 By Larry Coffman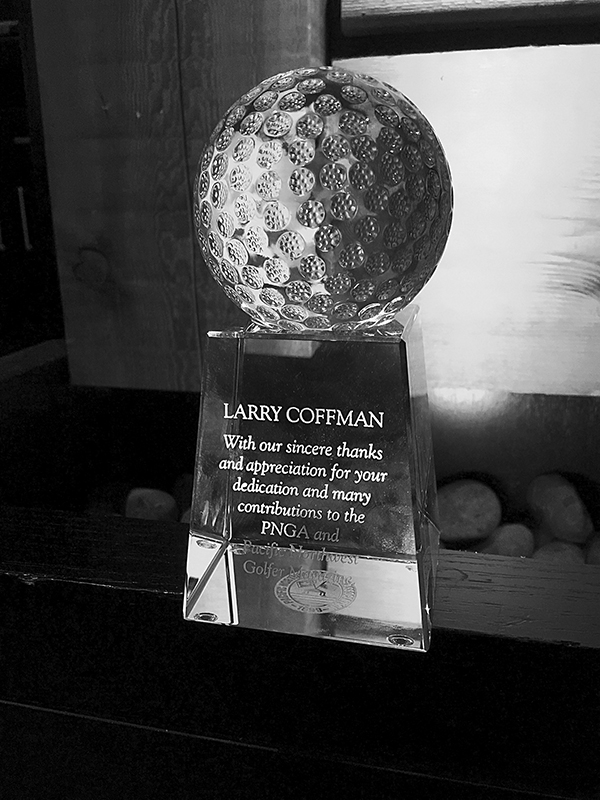 It all began a couple months ago with the arrival of the beautiful cut-glass golf ball-on-an-obelisk-base (at right) from my friends and former colleagues at the Pacific Northwest Golf Association.  I worked with PNGA execs Troy Andrews and Tom Cade for about five years, as the Washington State sales rep for the Association's quarterly Golfer magazine—before bowing out last June, after the U.S. Open.
In the lid of the sturdy, sateen-lined gift box was a small rectangular note, with the contact information for Kusak Cut Glass Works in Seattle and the message: "A big Thank You goes out to our loyal customers, and to our new customers, 'Welcome.'" After thanking Troy and Tom for the totally unexpected memento, my next call was to Kusak's, where I was greeted by a guy who said cheerily, "Hi. This is Chuck Kusak. How may I be of service?" Another point for Kusak's.
The answer was, I was so impressed with the surprise gift (reinforced by the phone greeting) that I immediately knew his shop was where I wanted to buy four special awards for THE EVENT on May 18, and to have him advertise in the MARKETING ATLAS, which was just wrapping up. That occasioned our business meeting at the 13 Coins in South Lake Union, over a couple of adult beverages.
When we first sat down, Chuck thanked me for the copies of MARKETING that I'd sent him beforehand. He complimented me on the paper, and especially the  editorials talking about fitting ways to honor civic legend Jim Ellis, with whom I worked closely in my Metro Transit days. Then he casually mentioned that his family lived across the street from the Ellis' in the Montlake neighborhood of Seattle in the mid-1950s. Who knew?
The litany of commonalities continued when Chuck (the third-generation president of the premier cut-glass company) revealed that he not only knows Troy Andrews' predecessor as ED of the PNGA, John Bodenhamer, but introduced him to his now-wife, Pam, who also works at Kusak's. I soon learned of our mutual passion for golf and he's played many a round at my favorites, like Mt. Si and Snoqualmie Falls. When I mentioned that I lust for a round at Aldarra, which I can see from the Redmond-Fall City Road, enroute to Snoqualmie Falls, Chuck informed me that he's a charter member of the private club there! He promised to satisfy my lust.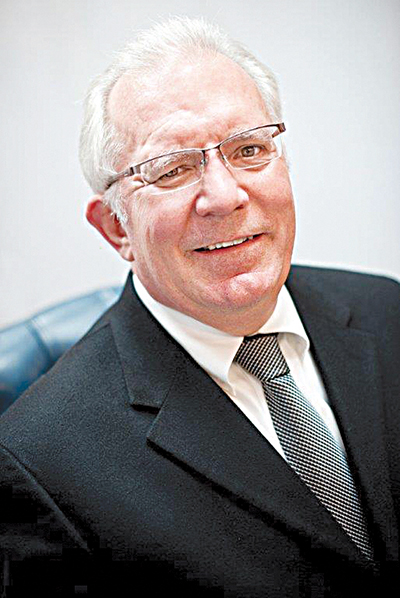 I mentioned that I'd been trying to get in touch with Seattle Times publisher Frank Blethen, and Chuck (looking dapper at left) immediately became effusive in his praise of Frank and The Times for the wonderful recognition they gave Kusak's on the occasion of the company's 100th anniversary in 2014, as well as sending them "the largest bouquet I've ever seen." It all began with a simple phone call from Chuck (at left) to Frank's office to advise him of the pending anniversary.
Also turns out that we both were in Germany in the early '60s, Chuck on sales trips to purchase fine glass, and me to fulfill my military obligation. Talk of Europe led him to hand me a beautiful booklet tracing the Kusak history from his grandfather, Anton, in the Czechoslovakian homeland in the late 1800's, to his father, Tony, and now to Chuck. And the beautifully written and designed piece was printed by none other than my long-time leading advertiser, ColorGraphics, which was a Rainier Avenue-area neighbor of Kusak's, before moving to Kent last month.
Reading the inspiring Kusak family history later that night left me anxious to visit their showroom and to meet the artisans who skillfully engrave the wide range of glass art they produce. Most have worked at Kusak's for decades, in what is a family business in the truest sense of the word. In fact, Kusak's has been honored as one of the Top 10 Family Owned Businesses in America by the U.S. Small Business Administration.
As you might suspect, Chuck's a consummate storyteller as well as a superb salesman. During one of his tales, he noticed another gray-haired fellow sitting alone at a neighboring table and turned to his right to make sure he included him in that conversation. After the guffaws subsided, both Chuck and I introduced ourselves to him. The fellow's name rang a distant bell, but after I got his card, Chuck and I returned to our business of deciding on deadlines for the four awards—and the two ATLAS ads.
Time to leave, amid promises to get together again real soon—especially on the golf course. Once in my car, I looked at the card the fellow had given me, and the light bulb came on…Don Jarvis! He was one of the early advertisers in MARKETING, when I was down on 217 9th Ave. N. and his Trade Marx sign shop was at the corner of Pike and Boren (and now in Sodo). I hopped out of the car and went back and re-introduced myself. We reminisced for a few minutes, until his guest arrived, and I left.
From outside the entrance to the Coins, you can see yet another new Amazon office tower, the boarded-up Seattle Times building (where I once worked) and several of the cranes that all speak to the city's surging size and sophistication. Even so, I still prefer to think of Seattle as a "magnet city" that people are attracted to and rarely leave, as they move over, around, down and up in their careers, with the great likelihood that individual paths will cross again and again—as they did that special afternoon at the Coins. It was so Seattle…