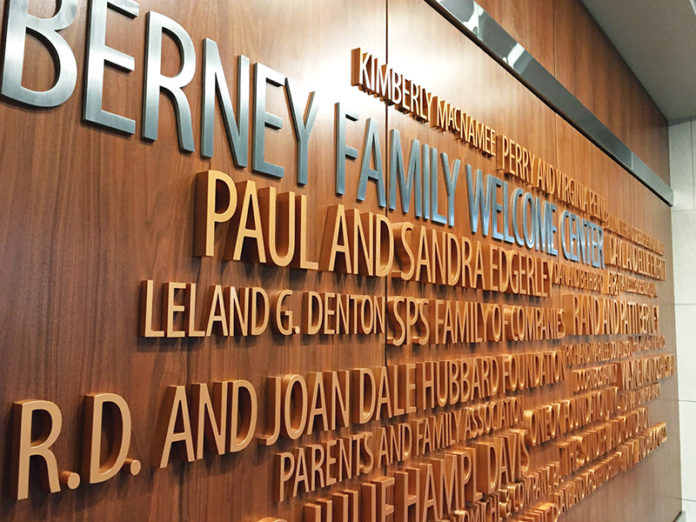 Michael Courtney Design completed this environmental graphic design project that honors donors at the Berney Family Welcome Center at Kansas State University in Manhattan, KS. It displays the names of 27 families, individuals and organizations who were central in funding construction of the center, with the scale of each name relative to the size of each contribution. Other elements include naming and plaza and exterior building graphics. Credits to MCD principal Michael Courtney and staffers Fran Terry, Lizzy Skolmen and Joe Tschida.
---
AlphaGraphics Sold

AlphaGraphics, with six of its 260 U.S. franchise shops in Washington State, has sold to MBE Worldwide, a global third-party logistics, printing and communications services network with some 2,600 locations in 39 countries, including 500 in the U.S.
AlphaGraphics will continue to operate as an independent company and will retain its current management team. The headquarters will remain in Salt Lake City, UT, and the franchisees will retain their individual names, business concepts and brands.
AlphaGraphics executive chair Gay Burke termed the sale "an exciting development for (our) franchise system" and said it "creates unique opportunities to synergize with colleagues similarly steeped in managing a franchise-based network of entrepreneurs."
The Washington shops are in Seattle, Bellevue, Lynnwood, Renton, Fife and Olympia.
---
Why Sam Swims With Bricks!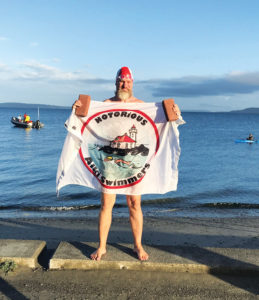 Multi-talented Sam Day (yes, the same one whose illustrations and paintings are featured in this issue) swims with bricks!
In fact, Day just reached a personal goal by swimming a mile in 65 minutes in the chilly 55-degree waters of Puget Sound, off of Alki Beach, on Saturday, Oct. 7.
He discovered some years ago that his great-great-grandfather, a Danish seaman, used to swim around a tall ship with a brick in each hand. The first time Sam tried it, he lasted only 20 strokes.
Day has looked into having the Guinness Book of World Records record his feat, but they declined, saying "swimming with bricks is not something anyone else does."
---
Hansen Belyea Ranked Number 1
Clutch, an independent research, ratings and review firm that analyzes and ranks leading marketing companies throughout the U.S., based in Washington, D.C., has named Hansen Belyea Number One among 66 branding agencies ranked in Seattle this year.
The Clutch site quotes the communications director at Schultz Miller engineers in Seattle as saying, "They bring an intangible quality to design and creative endeavors that you can't entirely explain…"
Other Seattle agencies, besides Hansen Belyea, that received a five-star rating include States Of Matter, Conflare and Y-Designs, Inc.
Each of the 66 Seattle shops is profiled in terms of service description, areas of service focus, minimum project size, hourly rate, number of employees and location. Besides rank, there also are sorts for number of reviews and review rating.
Hansen Belyea is described as a brand/video/web shop. Their service breakdown is 50% branding, 20% logo design,  20% web design and 10% video production.
Agency principal Ron Hansen said, "We were surprised and honored to receive this ranking from Clutch. We appreciate our clients' kind and honest feedback and selecting our firm for their branding work."
Others agencies in the top-66 ranking familiar to MARKETING readers are Urban Influence, Garrigan Lyman Group, Bullseye Creative, Hacker Group. Heckler Associates, United Creations, 206Agency, Hornall Anderson and Williams Helde Marketing Communications.
---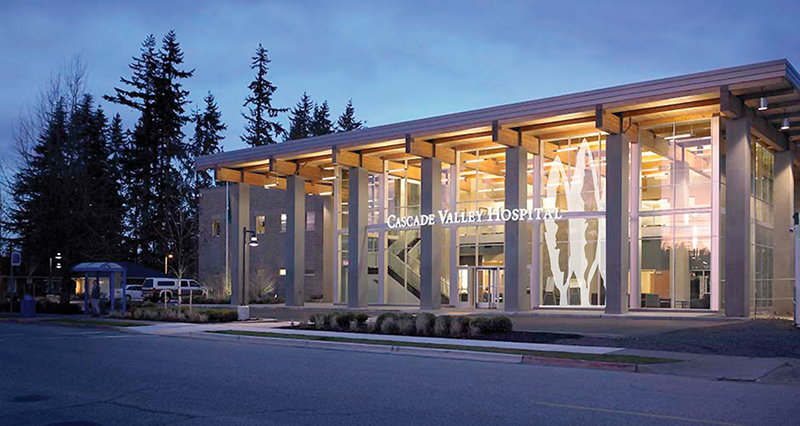 BrandQuery was a winner in Graphic Design USA's 2017 Health and Wellness Design Awards for it environmental graphics for client Skagit Regional Health. The winning submission, among more than 1,000 entries, was for the dramatic graphics for the entryway of Cascade Valley Hospital and Clinic (above). The agency also developed a comprehensive marketing campaign that included print, direct mail and digital advertising. Jacque Beamer, owner and chief brand strategist of the Mount Vernon-based agency, said, "We're thrilled to have received this recognition for design excellence from an organization that sees the best-of-the-best in healthcare marketing from around the country."
---
Memo To Marcomm Musicians
To: Marcomm Musicians
From: David Endicott*

Music4Life™, the Seattle-based non-profit that provides ready-to-play musical instruments for needy public-school students, has experienced double-digit growth in the past year.
Our organization delivered 276 instruments to participating public-school districts by the end of August, compared with 143 the previous year. The total value of the instruments also increased significantly to nearly $169,000. Fair market value is determined by independent third-party music experts.
We acquire the instruments from adults who no longer need them and understand that their highest and best use is to put them back into play.
We get them repaired and then provide them to schools in Seattle, Edmonds, Everett, Highline, Mukilteo, Shoreline, Bremerton and Northshore. Donations also are accepted to help pay for instrument repairs.
The growth in our program was unexpected but certainly appreciated. We believe it was due mainly to the addition of the Everett program last year, significant new free advertising support and the simplification of internal operating procedures.
We operate with local booster clubs on a fiscal year that begins Sept. 1. Contributions by individuals are tax deductible, as well.
I look forward to hearing from some of my long-time friends from the marcomm world—even if you don't have an instrument to donate.
*Marcomm folks will remember Dave Endicott (now co-founder and president/COO of Music4Life) as a former member of MCEI, past president of the local PRSA chapter, former press secretary to Sen. Slade Gordon and former manager of Broadcast News & Media Services at U-Dub.