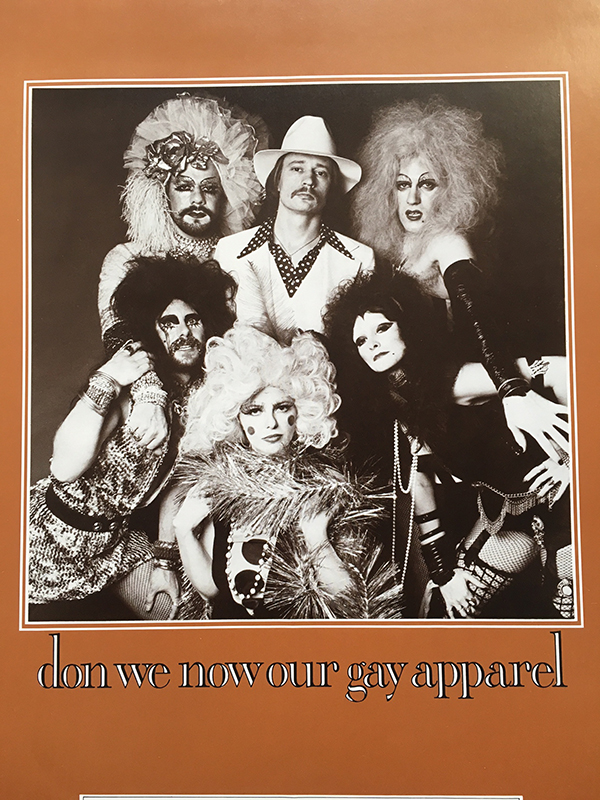 Following are headlines—and memories—gleaned from the 10,000 MARKETING pages published since the Fall of 1986—a span of three decades that saw dramatic changes in all areas of marketing communications. Have fun seeing how many of the events you remember and names that you recognize—perhaps even your own…
• '86-'87: The Intro Edition of MARKETING is published in Oct. '86, followed by the first monthly issue in Jan. '87, which began as 20 pages and increased to what would become the normal 24 pages, beginning in September… Boeing awards its coveted $13 million advertising account to Cole & Weber…. Ad whiz Steve Darland departs Evans/Kraft to run the San Francisco office of J. Walter Thompson, with billings of more than $150 milliob annually… Vice president George Bush and Boeing president T. Wilson cut the ribbon to open the new 148,000-square-foot Museum of Flight Great Gallery, a project spearheaded by ED Howard Lovering (at right) and designed by Ibsen Nelsen… The Sept. '87 pages were produced by computer print-out, via Jerry Monti at Common Sense Publishing, rather than by the time-honored cut-and-paste method, saving about 20 hours of production time and hundreds of dollars an issue… Bob Valentine and Bruce Walker become co-owners of Valco Graphics…
• '88:  Rotary Offset Press becomes the printer for both Seattle Weekly and the Puget Sound Business Journal; the combined contracts represent nearly $1 million in annual revenues, according to ROP GM Ken Robinson… The May issue was accompanied by a 32-page special section of '88 ADDY Award winners… Steve  Lawson's audio-production studio becomes the first to record clients outside this market, via a satellite link… Paul Casey debuts his MATURING publication for the senior market, the first addition to the Niche Newspapers Group… David Bethlahmy sells Atomic Press to L.A.-based George Rice & Sons…  Mike Mogelgaard adds The Seattle Times to a growing stable of clients that includes Seafirst and Longacres Race Track… "The Knife Is Dead" declares the headine on a lead story in the September issue about the desktop-publishing revolution…
• '89: John Brown and Dick Hadley join forces as Brown, Hadley & Partners… Fax machine sales and usage are booming… Jerry Monti reports from MacWorld that color separations from desktop computers will be coming in the next 12 months… AdWorks, an offshoot of Elgin Syferd aimed at capturing retail-advertising business, pulled the plug after 2 1/2 years… Marty Loken changes the name of his Aperture Companies stock-photo shop to ALLSTOCK… Jerry Robinson sells his South King County publishing and print/mail empire to veteran Oregon publisher Joe Blaha… Seattle Times alum Alf Collins' new Professional AGENDA joins the Niche Newspapers Group… Kent-based TrojanLithograph buys GraphicColor…Stanton Bondo & Co. "bags" the $5 million Safeway account… An eight-page special section in the November issue gives the background on the upcoming 1990 Goodwill Games, an event made possible buy the efforts of Bob Walsh and Ted Turner…  Betty Handly's Type Gallery files for Chapter 11 protection, as desktop typesetting is rapidly overtaking traditional… Hal Newsom retires as president/CEO of Cole & Weber, ending a brilliant 33-year advertising career…
• '90: Valco Graphics moves from Western Avenue in Seattle to what co-owner Bob Valentine calls the "printing hotbed" in Tukwila… After 10 years, Todd Bitts ceases publication of The Monthly, MARKETING's primary competitor… In what was termed a union of "strange bedfellows, solid/stolid Don Kraft of Evans/Kraft and mercurial Mike Mogelgaard of Mogelgaard & Associates" merge their agencies…  Jann Blackbourn and Sue Bolduc buy Washington Transit Advertising from Bob Morgan and John Backstrom… The Seattle SuperSonics choose Evans/Kraft, now boasting creative star Mike Mogelgaard, to handle its $500,000 annual advertising account, according to Sonics VP/marketing Gary Spinnell…  Veteran publishers John Hughes and David Brewster join forces to open a state-of-the art web-offset printing plant in north Woodinville… Ken Gouldthorpe's Washington Magazine folds after six years of publication… David Strong closes his 22-year-old design shop to join the Walter Dorwin Teague firm, where he began his design career…
• '91:  Bruce Martin sells his 12-year-old Martin Lithograpics printing firm to a Chicago investment company and will remain as CEO…  Heath Printers contracts to use the presses and employees of Martin Litho, which files for Chapter 11 bankruptcy protection, after the deal with the Chicago investment company "went away," according to Bruce…  COMMUNICATING debuts as the fourth local Niche Newspapers Group tabloid, published by 21-year AT&T veteran Doug Dix… Walt Crowley and John Carlson's Point-Counterpoint show on KIRO-TV, which has gone 550 rounds, turns five…  John Costacos and Jim Heckman land a contract to publish a bi-annual magazine for NFL season-ticket holders… Chicago-based HSN/Telemation pulls the plug on its 12-year-old Seattle shop… Cole & Weber legend Hal Dixon dies in a polo accident at 67… the annual MARKETING ATLAS debuts…  George Bayless (at left) sells Bayless Bindery to sons Bob and Tip, who will rename the shop Puget Bindery…  Veteran PR pro and MARKETING staffer, Jim Hawkins, dies at 54 from a self-inflicted gunshot wound… The Recession is at its peak…
• '92: United Graphics, long a Capitol Hill fixture, is bought by an employee group and will move to Kent…  Evans/Kraft acquires Ehrig & Associates, uniting long-time agency rivals Don Kraft and Jack Ehrig… Diana Kramer succeeds Miles Turnbull as ED of of the Washington Newspaper Publishers Association… Hank Barber's McCann-Ericson shop wins the Aldus Corp. account… The Seattle Times' new $150 million printing plant in Bothell goes operational… Four local tele-marketing shops close within the past three years, the latest being The Calling Co…   The Seattle SuperSonics move their account to Livingston & Co. and "rising creative star, Tracy Wong, played a pivitol role" in the win… Gene Gowan of Quality Trade Service files for Chapter 11 protection for his traditional prepress shop, in the face of  growing competition from desktop color… Scott Fivash adds Peninsula to his lineup of publications that includes Washington CEO and KCTS Nine magazines… Betty Handly closes her 17-year-old Type Gallery… I wrote that "the Seattle area is clearly in the grip of grinding changes—powered by  revolutionary electronic-production, economic and entrepreneurial pressures"…
• '93: BP&N GM Mike Jaglois says loss of the $6.5 million a year Washington State Lottery account to McCann-Erickson was "like a death in the family" and was the "death knell" for seven of the agency's 25 staffers…  Phil Herring opens Herring/Newman offices in San Francisco and Boston and acquires McMath & Gross… Wayne Peeters buys out his UniCraft partner, Jim Barrett, and says UC's work in the lightweight paper-box niche is "going gangbusters"—and is acquired by Allpak months later… Radio legend Jim McGovern dies at 62, and Shannon Sweatte, VP/GM of KVI/KPLZ radio, calls him "The Most Unforgettable Character I have ever met" in his tribute to Jim…  Austin McGhie is the new chief exec at Cole & Weber, and Evans/Kraft changes its name to Evans Group—which promptly wins the $10+ million Egghead Software account…  Printing closures and mergers pick up, with the demise of Totem Press, Associated Graphics and Jaguar Press, and the merger of Continental Printing and Associated Graphics…  Marion Simpson (at right), long-time NATAS administrator and MARKETING's first landlady, dies at 72…  Les Smith, of Kaye Smith Business Graphics, acquires Technaprint, on the heels of his Dinner+ Klein buyout—and I write my all-time favorite above-the-flag story in the August issue about spending a day with the legendary businessman… MARKETING moves to Hughes Publishing Center in Woodinville, after five years at Murray Publishing Co. in Seattle… The Rockey Co. acquires the Northwest office of Hill & Knowlton, in a move engineered by Jay Rockey and H&K's Art Merrick... Advertising Services and Thomas & Kennedy (John Thomas and Bud Kennedy) merge… Tracy Wong and Pat Doody team up to form WONGDOODY, which Tracy said "is not to be mistaken for a newly discovered bacteria"…
• '94: Big radio news, as Ichabod Caine switches from Country KMPS to rival KRPM… Julie Blacklow returns to KIRO-TV, and Shamrock Broadcasting sells KXRX (synonymous with GM Steve West) to Alliance Broadcasting… The Herald in Everett lays off 16 staffers, including marketing director Lynda Peters… Jackie Lewis Ward moves Litho Color from South Lake Union to Lake City… Adobe's buyout of Aldus—the Seattle company that began the desktop-publishing revolution—is  called a "pivotal moment in the historty of electronic publishing"…  The April issue comes with an eight-page special section celebrating the 15th anniversary of Steve Lawson's  Lawson Productions… Cf2GS acquires Sharp Hartwig and is promptly bought by Foote, Cone & Belding, the largest U.S. ad agency… London-based Tony Stone Images purchases Marty Loken's ALLSTOCK…  Video photographer/director Mike Van Ackeren dies from a heart attack at  50 and is honored in a back-page ad, placed by Mike Mogelgaard… Radio legend Jim French signs off as host of his morning radio show on KIRO.. Cherry Brown, who founded the School of Visual Concepts with her husband, Dick Brown, in 1971, dies at  63… Bonneville Broadcasting sells KIRO-TV to Dallas-based Belo Corp… Long-time anchor, Gary Justice, leaves KIRO-TV to begin selling life insurance… Paper-price hikes of 20%+ send shockwaves through the marcomm community and put pressure on print-advertising rates..
• '95: The Alaska Airlines account flies from Livingston & Co. to Goodby, Silverstein & Partners in San Francisco, after what Roger Livingston calls "an idyllic 17 years"—and soon thereafter he closes the shop, which had 25 employees…  P-I staffers describe—in words and photos— how they handled coverage of the Pang warehouse fire, which claimed the life of four firefighters… Film-stripping is going away, in favor of  placing digitized scans and ad-disk content directly onto electronic pages…  Starbucks is seeking a new agency for its $7 million annual account, after giving notice to Evans Group, its agency since 1990, and Scott Bedbury is hired as Starbucks' VP/marketing… Bob Walsh begins an effort to land the 2008 Summer Olympics for Seattle… James Clark and Tony Gable merge their design firms in the Tower Building as Clark+Gable Design (catchy, eh?)…  Roy Robinson's Prolab acquires Argentum Photo & Digital Services…  Evans Group Public Relations acquires Communication Northwest, the PR firm founded by the late Gary Boyker…  Seattle Weekly goes from subscription to free circulation, and publisher David Brewster reports that "papers are flying out of the newsstands"…
• '96: Westin Hotels & Resorts ends a five-year run with Cole & Weber for DDB Needham/Chicago. Westin ad/PR VP Sue Brush says the tripled annual ad budget (to $25 million) will be spent largely on North American and Asian TV… Phil Smart shares his thoughts on using the "third eight" hours of one's day in community service at Litho Craft's 19th annual Valentine's Breakfast…  McCann-Erickson, and the media team headed by Sheryl Hudson, wins The  Bon Marche's $10 million annual media-buying business, against five competitors…  The sale of Heath Printers to Texas-based Ennis Business Forms becomes the seventh recent acquisition of  a local printer by a large outside firm… Jim Copacino leaves McCann-Erickson to form Copacino Creative…  Bill Cundy sells Overlake Press in Kirkland to a Californian…  Evans Group, with headquarters in Salt Lake City, wins the contract to brand the 2002 Winter Olympic Games in SLC…  Paul Goldberg and Matt Bien purchase MacDonald Recording and change the name to Pure Audio… The last stand-alone local radio station, WARM 106.9, is sold to Sandusky Radio for $29 million..  John F. Kennedy, Jr., touts his new George Magazine at an SAF luncheon… Dick Lea  moves his venerable Craftsman Press to Stead, NV… Cole & Weber co-founder, George Weber, dies at 89… Hank Barber retires as EVP/creative director at McCann-Erickson and is succeeded by Jim Walker…
• '97: Valco Graphics woos Darren Loken away from World Class Mailing to run a new mailing division and names Karen Lindsay a VP… Cox Broadcasting buys KSTW-TV from Gaylord Entertainment for $160 million… David Brewster's Seattle Weekly and Eastsideweek are sold to the Village Voice in New York City…  Weyerhaeuser moves its $7 million annual advertising account to an L.A. agency,  after more than two decades with Cole & Weber… The Seattle Times wins two Pulitzer Prizes… Over the past two years, consolidation has shrunk 17 Seattle radio stations into five clusters of commonly owned stations… The hotly contested Seahawks' stadium election, managed by Bob Gogerty and aided by $5+ million of Paul Allen's money, passes narrowly…  Hugh Smith, of the former Kraft, Smith & Ehrig, dies at  77… KCPQ-TV moves to state-of-the-art studios on Westlake Avenue… Ackerly Communications agrees to stop posting tobacco ads on its billboards by Jan. 1…  Dave Marriot leaves Elgin Syferd PR to become a partner in Gogerty & Stark… Dan Fine's fledgling fine.com database-marketing firm goes public… Ken Madsen closes his Duck Island Limited prepress shop at Green Lake, saying  his "pockets weren't deep enough" to buy new digital equipment…  The Seattle Bid Committee, headed by Dave Syferd, throws its "hat in the ring" for the 2012 Summer Olympics… WONGDOODY lands the $10 million Alaska Airlines account, previously held by Goodby Silverstein in S.F. and opens an L.A. office…
• '98: Jim Frey is chosen to succeed as Jim Olsen as president of the Pacific Printing & Imaging Association… L.A.-based ColorGraphics buys Grossberg•Tyler Lithographics…  Three publishers discontinue a total of five weekly newspapers: Eastsideweek, the Highline, Federal Way and Des Moines News and the Snoqualmie Valley Reporter… Dennis Miller tells how he got Martin Selig to build Evans Group a new five-story building at 190 Queen Anne Ave. N., housing 185 staffers… Stan Soderberg "hangs up his jersey" after 45 years in the advertising business… G. Michael Donovan departs as president of Entercom Radio/Seattle… Jack Ehrig, of the former Ehrig & Associates, dies at 68…  I tell the story of my tour of Mike Mogelgaard's "villa," on the hillside above Leschi… N.Y.-based THINK buys Herring/Newman for $3 million… Bob Grindeland and Janet DeDonato rebrand the Team Design firm they helped found in 1988  as Methodologie, and Patricia Belyea's Belyea Design Alliance becomes simply, belyea… Legendary Craftsmen Press salesman, Jim Abbott, dies at 83…  Paris-based Publicis buys Salt Lake City-based Evans Group, including the Seattle office, for nearly $30 million… N.Y.-based Applied Graphics Technologies buys Color Control, founded by prepress pioneer Cord Harms zum Spreckel, for $23 million+… Fred Schumacher resigns his post as market manager of the CBS Radio group…  Manus Direct is acquired by N. J-based  Vestcom International…
• '99: The Seattle City Council scuttles efforts to bring the 2012 Summer Olympics here, saying in letter to point- man Bob Walsh that the event "has no long-term benefit to our city"…  The inaugural Seattle Show plays to an SRO house in the Eagles Auditorium…  Joop Schippers' Color Service prepress/digital printing  shop changes its name to Iridio… Alan Grossberg departs ColorGraphics… Steve Bryant is promoted to president of Publicis Dialog… George Purdie and Andy Rogers rebrand Ad Infinitum as Purdie Rogers… Edelman PR acquires WHAM Communications, owned by Patrick McGuire and Melanie Wilhoite… The Kelly family sells KCPQ-TV to the Tribune Co…  KTZZ-TV rebrands as KTWB-TV… Wisconsin-based Banta closes its Kent plant, where 121 were employed… star Seattle P-I editorial cartoonist David Horsey wins a Pulitzer Prize… Craig Bednar and his Minneapolis-based Tiger Oak Publications buys Seattle Magazine from California-based Adams Business Media…  I write a eulogy to my former high school baseball teammate, Cal Ripken, Sr., upon his death at 63…  Steve Lawson sells his 20-year-old audio shop, Bad Animals/Seattle, to a  trio of staffers and Charlie Nordstrom…  Foot Cone & Belding buys Bellevue-based Hacker Group from its co-founders, Bob and JoAnn Hacker… Ann Bergman and Alayne Sulkin sell their six parenting publications to a London media company for $6.2 million…  Pat Cashman is back as a morning host—on KOMO Radio—four months after his controversial dismissal from the morning slot at 100.7 "The Buzz"… Boeing sends its $30 million annual advertising account to McCann-Erickson/L.A., after 27 years with Cole & Weber…. David Bondo leaves Bondo & Remer  to pursue Internet interests… The Leonhardt Group, owned by Ted and Carolyn Leonhardt, is acquired by Chicago-based Lighthouse Global Network…
• 'OO: Hammerquist & Halverson wins Best of Show at the second Seattle Show…  PPI picks Marcus Sassaman to succeed Jim Frey as ED… Joop Schippers sells Iridio (nee Color Service) to R.R. Donnelley & Sons Co… The Seattle Times moves to AM publication, head-to-head with the P-I and new publisher Roger Ogelsby… Publicis moves into its new 190 Queen Anne Ave. N. office building…  The 23-year-old Kingdome is imploded on March, 26… Henry McLeod, the Seattle Times managing editor who hired me there in 1966, dies at 88…  WONGDOODY wins the hotly contested $6 million Safeco Insurance account… Marilyn Hawkins merges her PR agency with The Fearey Group… EMB Partners and Hinton & Steel merge and name David Barbrack president… The Rockey Co.. is acquired by Hill & Knowlton… Kaye-Smith acquires Laser Direct… Ivey Seright is acquired by UK-based Photobition…  Methodologie and The Traver Co. merge… Image Control Systems (ICS) founders, Rick and Peg Young, die in an auto accident in Utah… Pat Scott retires after a 31-year career with Fisher Broadcasting…. Ralph Fascitelli sells his Imagio ad/PR agency to J. Walter Thompson… Jerry Robinson  purchases the Hughes Printing Center in Woodinville from John Hughes and renames it the Northwest Publishing Center…  Doug Dykstra closes his Continental Printing shop in Lake City—and it returns as FastLane Digital LLC…  David Behar  revives his temporarily defunct KIRO News Fax as Seattle News Fax…  Bill Yeend retires after 30 years at KIRO…  My close friend and colleague in the Metro Transit days, Wally (the Bear) Toner, dies of a heart attack at 58 and, shortly thereafter, another close friend from the transit era, Bill Ostenson, dies at 61… The Rocket, long-time music-industry trade pub, shuts down… The first local daily newspaper strike in 47 years shuts down both The Seattle Times and P-I, now both AM papers—even as the Blethen family rejects a reported $650 million buyout offer from Knight Ridder Co., its 49.5% partner in The Times… Pete Hatt, at 59, retires as chairman of FCB Seattle (nee Bozell), ending a 33-year advertising career…
• '01: Terry Heckler wins the Legacy Award at the third annual Seattle Show, dominated by WONGDOODY… We are first to report the "retirement" of Mike ("Mogs," as I call him) Mogelgaard as vice chairman of Publicis Seattle at the tender age of 55. Although an ad-biz whiz, he'll also be widely remembered for his outrageous Christmas cards (example at right)…  Carol Keaton retires as a King County employee for 25 years—24 of them with the late Kingdome…  WONGDOODY and Safeco Insurance part ways after just a year, and Publicis Seattle gets the account several months later… Kevin Kehoe and Randy Browning are named co-presidents of Publicis, Seattle's largest ad agency—and the resignation of Dennis Miller as chairman/CEO follows shortly thereafter…  The Internet is increasing media "fragmentation" and keeping media buyers even busier, trying to do more in less time… A MARKETING survey found near unanimity that there is a "glut of iron" (i.e., printing presses) and that margins are tighter in the Seattle-area market… McCann-Erickson Seattle, led by Jim Walker, changes its name to Sedgwick Rd. and moves to new SoDo offices..  Seattle Weekly, celebrates its 25th year of publication… Griffin Envelope changes the name it has had for 80 years to that of its parent, Denver-based Mail-Well, Inc… Allen Funk succeeds Larry Hanson as publisher of The Herald in Everett… Harlan Zentner retires as Heidelberg Press' star salesman in the Northwest at 64—only to resurface soon after as PPI  membership director…  San Antonio-based Clear Channel Communications acquires The Ackerley Group for $775 million…  Local TV anchors share their reaction to the terror attacks of 9/11 in New York City… H. Mason Sizemore retires as president of The Seattle Times at 60 and is succeeded by Carolyn Kelley…   
• '02: Hal Newsom publishes Hope, an inspirational book for fellow sufferers of Parkinson's Disease…  Top ten local printers report staff cutbacks averaging 10%, after a "difficult year"…  Dana Faust is named associate publisher of Seattle Weekly, and Jill Mogen departs as ad director…  Darrell Oldham, a co-founder and credited with naming Seattle Weekly, dies at 64…  Bill Webber and Gary Cone of Litho Craft hold their 25th annual Valentine's Day supplier-appreciation breakfast… Walt Crowley's HistoryLink gets a $100,000 grant from the Paul Allen Foundation to launch a new statewide website… The fourth annual Seattle Show draws a record 800+ attendees at Safco Field and features stronger design representation…  DDB lures Chris Lloyd from FCB Seattle  to serve as managing director of advertising and wins Group Health's ad account, but FCB gets "an unexpected measure of reciprocity," when  Group Health pulls the account a month later and gives it to FCB, runner-up in the nine-agency review… Tony Ventrella signs on as a Q-13 morning news anchor, after 11 years as KIRO-7 sports director…  Veteran print-sales exec Oliver (Ollie) Iverson (at right), retires at age 61…  John Scholl buys Digicolor and renames it BIGink… Peter Horvitz, quietly building an Eastside/South King newspaper empire, debuts the daily King County Journal from a new state-of-the-art printing plant in Kent…  Dick Paetzke authors an article on the 75-year history of Valco Graphics, featuring the co-owners, Bob Valentine and Bruce Walker.…
• '03: Terry Karis' Academy Press in Interbay celebrates its 65th anniversary… Wade Brewer purchases Piranha, a production house, from Brett Stevenson… Alan Grossberg becomes the new GM of GAC Seattle—and soon thereafter hires his former business partner and star salesman, Bruce Tyler..  Jane McConnell's Washington State Media Directory turns 25…  Ron Elgin moves his DDB Seattle agency, with 175 staffers, to Martin Selig's 1000 Second Ave. building, covering 60,000-square-feet on three floors…  David Horsey wins a second Pulitzer Prize for his P-I editorial cartoons…  Daughter Melissa and Scott Book are wed in Paris on April  1… Radio maven Don Riggs retires after 50 years behind the mic…  DDB Seattle succeeds 11-year incumbent WONGDOODY as Seattle SuperSonics AOR… Color Service/Irido alum, Bob Bass, and four partners launch digital-printing shop Revolution!… Kathy Neukirchen's Media Plus+ celebrates its 20th anniversary and moves to new offices at 190 Roy St….  Restaurateur and behind-the-scene power broker, Dave Cohn, dies at 85…  Gogerty, Stark Marriott celebrates its 25th anniversary… Peter Barnes adds the Flicker & Blur video editing/finishing shop to his Clatter & Din  audio-post facility…  Entrepreneur/artist extraordinaire, Koryn Rolstad, wins the Nellie Cashman Award…  WONGDOODY dominates the fifth annual Seattle Show… 
• '04: Venerable Seattle Club of Printing House Craftsmen rebrands as CraftNet, with Julie Hiatt as CEO… Barbara Coplen resigns as GM of Printing Control, which she and husband, Randy Coplen, founded 29 years ago and was acquired by Kelmscott Communications in '99… Bob Knowles' 44-year-old Forward Press closes… Printing industry icon, Howard Koontz, dies at age 72…  And Boeing exec and my colleague from the rail-transit-election days, Harry Goldie (who shared my May 25 birthday), dies at 77…  John Castaldi's 23-year-old Rainier Color closes after a proposed sale to Mail-Well falls through… MWW Group is the new name of the former MWW/Savitt, after the move of Kathy Savitt to client Amazon.com… Cenveo buys Valco Graphics and merges it with its GAC Seattle shop, names Darren Loken GM and consolidates at Valco's facility in Tukwila… Led by associate publisher Melissa Cofffman, Seattle Magazine hits a record $340,000 in ad sales in its 188-page September issue, beating the revious high of $207,000,… John Rubino is named managing partner of Hadley Green Creates… Dave Syferd, co-founder of the former Elgin-Syferd, rebrands his KNCB Dave firm as Syferd & Partners…  The Seattle Advertising Federation rebrands as Ad Club Seattle… Radio legend, Phil Harper, dies of a heart attack at  64… New York-based Titan wins the King County Transit advertising account from Viacom (nee Washington Transit Advertising), with a whopping $26 million, five-year bid—the first time an outside agency has held the contract. Pamela Quadros is named to head the Titan office here… Hornall Anderson Design Works is acquired by Diversified Agency Services, a subsidiary of the global  Omincom Group…
• '05: Herbert Alva (Al) Lockard, owner of Impression Printing, passes at 63… John Hornall, co-founder of Hornall Anderson, retires after more than 30 years in graphic design… Publisher Mike Flynn and the Puget Sound Business Journal staff celebrate the paper's Silver Anniversary…  Printing Control is aquired by Houston-based Consolidated Graphics, which already owns long-time PC competitor, Emerald City Graphics… Tiger Oak debuts Seattle Business, and Brett Stevenson launches Bizillion Magazine—both for the business market… Natalie Price is promoted to president of The Fearey Group… ColorGraphics, which has a  plant in Seattle, buys its L.A. rival, George Rice & Sons… The venerable annual Graphic Arts Golf tournament at Jefferson Park ends at year 66…  Gary Stone's Consolidated Press installs a 10- color, 40 inch Komori press—one of only 15 in the U.S… Direct marketing leader, Norm Swent (at right) of Marketry, Inc., dies at age 77…  Ad exec and a pioneer of the virtual-agency concept, John Eastham, 60, dies of leukemia… West Coast Paper observes its 75th anniversary… Bullseye Graphics changes its name to Bullseye Creative and adopts unorthodox staff titles, such as those for the co-owners: account warrior Peter Klauser, and creative guru James Klauser… Lola Hallowell, the petite "Grand Dame" of talent agents, dies at 89…
• '06 :  Leo Burnett/Chicago wins the $100 million annual Washington Mutual ad account, held for 14 years by Sedgwick Rd. (nee McCann-Erickson)… Wally Lloyd announced the move of his GA Creative agency to new high-rise digs in Bellevue by buying an unprecedented cover wrap, plus six full-page ads in the February issue of MARKETING, the latter two a centerfold double-truck!… "Creative wunderkind" Guy Seese leaves Cole & Weber/Red Cell for Goodby, Silverstein & Partners in San Francisco… Bob Liddle, KIXI Sunday Brunch host, retires after 50 years in radio… Mike Flynn,  publisher of the Puget Sound Business Journal the past 23 years, turns the reins over to Emory Thomas, Jr.… Photo-journalist Phil Webber dies at age 67… Alpha Cine and Forde Motion Picture labs merge… In a dramatic format shakeup, KIXI-AM switches to 100% syndicated programming on weekdays… Jules Van Sant is named ED of PPI, succeeding Marcus Sassaman… Peter Horvitz plans to sell his 11-newspaper suburban King County holdings, including the flagship daily King County Journal, by year-end…  KPLU received a $1 million donation in its fundraising campaign to build a new station on the PLU campus… Dan Lane is "flabbergasted" to have been chosen as 2006 Craftsman of the Year, among the 3,000+ members of the International Association of Printing House Craftsmen…  "Curmudgeon" Frank Potter, of  the 50-year-old Potter & Associates, dies at 89… The Great Windstorm, in late December, causes long power outages across the region…
• '07: MARKETING moves from monthly to bi-monthly publication… Seattle Weekly co-founder David Brewster launches his new online "newspaper," Crosscut… Creative legend Fred Hilliard dies at 67… Connecticut-based Cenveo acquires ColorGraphics, with plants in Seattle, L.A., San Francisco and Orange County and consolidates Seattle operations in ColorGraphics's south-Seattle plant… The celebration of life for Walt Crowley (at right), who died at 60, turns into a "reunion," and is attended by more than 700 at the Museum of History & Industry…
• '08: The 17th edition of the MARKETING ATLAS is the first to be printed in full color… Local broadcast industry icon Larry Nelson dies at 70…  Will Ludlam succeeds Jay Rockey as EVP/GM of Rockey Hill & Knowlton… Pat Monks' Nikkomedia and John Teeny's Precise Printing merge, and will keep the Nikkomedia name and consolidate in the Precise plant in Ballard…  Paul Heppner debuts two new City Arts editions, in Seattle and on the Eastside… Super print salesman Bruce Tyler dies at 61… Don Riggs ends a remarkable 55-year career in local broadcasting… Former transit-advertising exec John Backstrom, Sr., dies at 68… After a long hiatus, the ADDY Award competition returns to Seattle, according to Ad Club president George Riddell… Jerry Neth sells his 15-year-old Eastside Printing Co. to Perfect Press in Bellevue… We launch the www.marketingimmortals.com website to "recognize those who have contributed so much" to the marcomm community—a pantheon that has grown to 55 members…
• '09: Bill Webber and Gary Cone of Litho Craft buy Dean Douma's Artcraft print shop… Tiger Oak Publishing acquires beleaguered Washington CEO and merges it with Seattle Business… Seattle Show No. 8 is staged at Showbox SoDo… Seattle P-I publishes last print edition on March 17 and will go all online… ESP Printing owner  Dave Cooke is found dead of suicide at his Kent home, and shortly thereafter, ESP files for Chapter 11 bankruptcy protection. Soon, McCallum Print Group purchases the assets of ESP…Mick Tacher of The Tacher Co., a radio-ad-sales firm, is recovering from a tragic accident that resulted in the loss of both legs above the knees… More than 170 attend Les Smith's 90th birthday party at the Bellevue Club…  Bob and Tip Bayless of Puget Bindery purchase the Washington Division of Ultrakote…
• '10: DIRECTTV acquires Liberty Entertainment, which includes the local Fox Sports Net affiliate… The sports-talk team of Mike Gastineau and Dave Grosby is split up, with the move of Grosby from KJR-AM to rival 710 ESPN…  Creative guru Jerry Wolfe, creator of the memorable "Take Me, I'm Yours" campaign while I was at Metro Transit, dies at 78… I get my first hole-in-one on No. 7 of Eagle's Talon at  Willows Run Golf Course May 27… HL2, with about 40 employees, closed its doors and about 30 of them go to work for competitor Ascentium… After an eight-time run, the Seattle Show (tri-founded by Tracy Wong, Larry Asher and Fred Hammerquist) has decided to postpone further shows indefinitely, due to lack of entries during this time of economic downturn, according to ED Wendy Quesinberry… Former Monthly publisher Todd Bitts, and our erstwhile competitor, dies at 63…
• '11: We debut the content-rich marketingnw.com "SuperSite," with links to themarkeingatlas.com and  marketingimmortals.com websites… Veteran Tacoma ad exec Kurt Jacobson, who also shares my May 25 birthday, retires… The Washington State Tourism office closes, making Washington the only state in the nation without such an office… The Soundies radio-awards show is quietly shelved, after a 25-year run… This, coupled with suspension of the Seattle Show, leads us to launch the MARKETING Awards competition… Richard Bendix is named chair of the 11-member Awards Committee… Artist-rep Pat Hackett (at right) wins a second national title in her division in the Masters Weightlifting Championships…  Jason Miller's two-year-old Concrete Herald is thriving, proving community newspapers are far from dead… Dave Marriott has his "moment" in the spotlight, as emcee at the press conference welcoming his client, Amanda Knox, back to Seattle, after reversal of her murder conviction by an Italian court…  The 40-year-old Printers NW Trader shuts down after 40 years of publication… Hal Newsom, who received a BA degree in 1952, headed a slate of six inducted into the UW Department of Communications Hall of Fame…
• '12: Cole & Weber marks its 80th birthday with 12 ads for the Summer Olympics Global Youth marketing campaign… Ron Elgin retires from DDB Seattle, which is closing its doors here as well… PrintWest's Phil Parrish and Charlie Wozow acquire their Woodinville neighbor, LaValle Printing, owned by Dennis LaValle… John DeNure, the local printing industry's foremost historian, dies at 92… Wong, Doody, Crandall, Weiner (nee WONGDOODY), led by Tracy Wong, and Jones Advertising, led by Mark Jones, both are contestants on AMC's national TV series, "The Pitch"… Terry Heckler's Rainier Beer motorcycle commercial is named Seattle's Best TV Spot Ever at the inaugural MARKETING Awards show, climaxing a contest conducted by David Horsfall, former creative whiz turned surf-shop owner and self-confessed "beach bum"…  WCP Solutions (nee West Coast Paper) launches WCP Envelope… In a spate of notable passings—TV legends Kathi Geortzen and Chris (J.P. Patches) Wedes, die at ages 53 and 84, respectively, veteran bank marketer and fellow Syracuse University grad, Don Piercy, loses a battle with prostate cancer at 67, fomer Publicis Seattle CEO, Dennis Miller,  dies of leukemia at 60 and entrepreneur extraordinaire, Lester (Les) Smith, dies at 93…
• '13: Louis Stanton-Masten is named ED of the new Washington Tourism Alliance, a private group formed in the absence of a state tourism office… Mary Knight, Hydrogen Advertising creative director, will spearhead a national campaign to to encourage ADDY entries… 21-year graphic-design diva, Patricia Belyea, changes career by opening her Okan Arts quilting business…  George Ricci, who once owned disc-duplication offices in  Chicago, Atlanta and Tucson, closes his Seattle office of Paragon Media and moves to Nevada…  In a "stunner," Sound Publishing VP, Josh O'Connor, announces Sound's purchase of both Seattle Weekly and The Daily Herald in Everett… AAA Printing owner, John Madden, buys his Bellevue neighbor, Printex Press, owned by Frances Simperman… Gary Halpern's PhotoMedia magazine ceases publication in its Silver Anniversary year… In two momentous deals affecting local television, Gannett Company enters into a merger agreement with Belo Corp., this on the heels of Sinclair Broadcasting buying Fisher Broadcasting Co…. Steve Cunetta, who worked on Copacino+Fujikado's flagship Seattle Mariners account for 20 years, and is credited with coining the phrase,"SoDo Mojo," dies at 55, after battling a rare form of cancer… KING 5 veteran Alan Schauffler joins the new Seattle bureau of Al Jazeera… Jacque Beamer's BrandQuery handles PR in the aftermath of the Skagit River bridge collapse… Chicago-based R.R. Donnelley & Sons Co. acquires Houston-based Consolidated Graphics, Inc., owner of Emerald City Graphics and Printing Control in Seattle…Veteran radio exec, Chuck Maylin, is named ED of the Seattle Area Radio Association, a rebrand of the 30-year-old Puget Sound Radio Broadcasters Association..
• '14: Cole & Weber United lands the Hawaiian Airlines account, previously held by Razorfish… Steve Nasca merges his Allegra Printing and Mailing with Star Printing… Jack Anderson moves up to chairman of Hornall Anderson and is succeeded as president/CEO by John Anicker… Gary Meyers and Tim Hodgson rebrand their  leading B2B agency as BlackWing Creative and open a San Francisco office, after acquiring Alt, a Bay Area creative firm… KOMO's news helicopter crashes on takeoff, killing its two passengers, just four days before the Oso landslide—both challenging and emotional events for local TV anchors…  Community-newspaper titan Gerald (Jerry) Robinson (at right) dies at 94 and is remembered in an article by sons Ken and Tim Robinson… Allison+Partners acquires Bob Frause's Frause agency… DCG ONE acquires Bellevue-based CCS Printing and breaks ground on new facility in south Seattle… Two long-time local printing-industry leaders, John Thomas and Herb Blackinton, die at ages 82 and 71, respectively…  And Bob Gogerty, my former colleague at Metro Transit and a leading public-affairs counselor who led the campaign to build the new Seahawks' stadium (now Century Link Field), dies at 74… Digital Kitchen and Methodologie merge..
• '15: Third-generation-owner Tim Zamberlin's National Sign Co. turns 100… Cole & Weber United retains the Washington State Lottery account it has held for six years, and Hornall Anderson opens a New York office…  Denis (Denny) Brown, president of the family owned Daily Journal of Commerce, dies at 78… Rita Brogan's PRR transitions to employee ownership… Design guru David Strong dies at 79 and is remembered in an article by his former business partner Gary LaComa… Fred Hammerquist's Hammerquist Studios becomes part of Cole & Weber United… Paper-sales legend Sam Boren, of WCP Solutions, retires after 51 years with the same company, formerly West Coast Paper…  Chuck Maylin moves from ED of the Seattle Area Radio Association to GM of Andy Skotdal's KRKO and KKXA in Everett…  Digital Kitchen is purchased by a Japanese company, and Rick Stanton closes his Stanton & Everybody shop to do some occasional consulting as Stanton & Nobody… Coverage of the Oso landslide dominates the 52nd Emmy Awards… Rob (Vern Fonk) Thielke dies at 50 and is remembered in an article by Brett Stevenson, whose agency made Thielke a local icon, as star of the Fonk ads… Titan changes its name to Intersection… ,KING Broadcasting moves from 333 Dexter Ave. N. to SoDo…
•  '16: John Spear spearheads publication of a lifestyle magazine in Mandarin… Alaska Airlines ends a 20-year relationship with WONGDOODY and hires San Francisco-based Mekanism…  Former Renton mayor and my good friend, Don Custer, dies at age 79… Following the move to SoDo, KING 5 bids adieu to two long-time anchors, Jean Enersen and Dennis Bounds, and weatherman Jeff Renner…  Mercurial ad exec Roger Livingston, who passed at 80, is remembered in contributions by two of his star recruits at the former Livingston & Co., Jim Copacino and Tracy Wong…  The sports-poster team of John and Tock Costacos releases a new Russell Wilson poster, after a 20-year hiatus… Wexley School for Girls is named the Small Agency of the Year in the Northwest by Advertising Age… and the beat goes on…                 —Larry Coffman