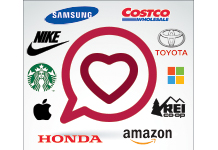 By Don Morgan & Duane Knapp
As the world has evolved, so has our feelings about brands. Historically, brands have been viewed for their utility value (i.e., what do they do for us and how do they make our lives easier).
An emerging BrandScience™ philosophy indicates that, in fact, people actually "love" certain brands, especially those that define or are closely connected with a person's lifestyle.
As Jaimie Robertson, an experienced brand strategist in Australia, explains, "When someone really loves a brand, they think of it as indispensable and irreplaceable, as well as admired. Sometimes, when you love a brand, there's an X-factor; you can't put it into words, but something about this brand just clicks for you."
Brands that are loved also are enthusiastically promoted by their consumers.
Consumers may be loyal to certain brands, however, love for a brand is the highest form of flattery. In the Northwest, we have many brands that have become global successes and indeed are loved by their respective consumers.
Stop and think for a moment about the brands that you really love and that are an indispensable part of your life. And see how they compare with the results we're about to share with you.
Our two firms partnered to conduct a consumer survey to determine the brands that are most loved by consumers and how they compare to other brands. More than 600 consumers in the Puget Sound region participated in the survey.
Top Ten Most-Loved Brands
Consumers were asked to name, without prompting, three brands they love (i.e., admire, respect, trust and make your life better). The results:
Apple

Amazon

Costco

Nike

Toyota

Starbucks

Samsung

Microsoft

REI

Honda
Enthusiastic Promoters
Consumers were then asked to rate their loved brands in terms of how likely they would be to enthusiastically recommend each to their family and friends.
The brands with the highest ratings were Trader Joe's, Kirkland (Costco's private brand) and Alaska Airlines.
Local Love
We also asked consumers to rate a list of 27 national and local brands, using a 1 low to 10 high "love" rating scale. The results:
Amazon

Costco

Seattle Seahawks

Alaska Airlines

Fred Meyer

Google

Trader Joe's

Microsoft

Boeing

Apple

REI

Safeway

Starbucks

Seattle Mariners

Nordstrom
Conclusions
While consumers may tend to think of larger, more well-known brands that they really love, they also love smaller brands, such as a hair salon, favorite coffee drive-thru or boutique retail store, which make them feel special.
Westland Distillery, Les Schwab Tires, Anthony's Restaurants, Filson's and Juanita's Fine Food were among those cited by participants as smaller brands that they love.
How does all of the above compare with your brand-love list?
---
Don Morgan is president/founder of GMA Research (don@gmaresearch.com) and Duane Knapp is president of BrandStrategy, Inc. (dknapp@brandstrategy.com). Together, and with Jaimie Robertson's insights, they have developed a brand-love methodology that provides a comprehensive perspective for any brand. They work with clients to show how they can leverage their brand-love perceptions in order to optimize their success, loyalty and brand equity.