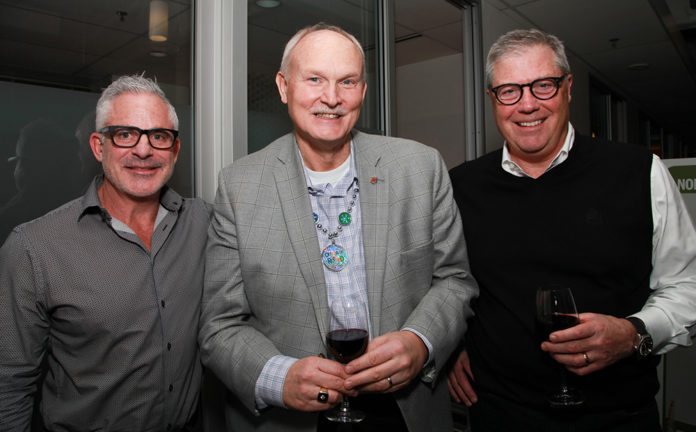 From left, Alan Brown, Rod Brooks and Dan Gross.
---
Rod Brooks is a remarkable guy, with a presence that commands any setting.
Rod has had an exceptional marketing career, capped by his long tenure as VP/marketing for PEMCO Insurance, he's a cancer survivor and he's reinvented himself yet again as principal of The Grandpa Project.
Rod's past was feted on Jan. 31 with a retirement party in the offices of DNA Seattle, Rod's long-time advertising agency at PEMCO and creator of the long-running and now-iconic "We're a lot like you, a little different" TV spots.
Said Rod: "It was humbling to have such a turnout of industry friends, colleagues, business partners and former employees help me celebrate the conclusion of a nearly 45-year marketing career. My wife, Cindy, and I were blown away by the decorations, the spread of Northwest favorites from Ivar's, Dick's and Ezell's and the incredible hospitality by DNA. The evening went by so quickly, but the memories will last forever. I'm so thankful to have gone to fun (not work) with such a great list of Northwest brands. And who ever would have thought anyone could market, promote and innovate with an insurance brand for 18-plus years For that, I suppose, you have to be "a little different.'"
On the same week as he was celebrating his retirement, Rod was introducing his passion of the present—The Grandpa Project website. I was honored that Rod asked me to be among the inaugural contributors, with remembrances of my own paternal grandfather and my life's hero, the Rev. E.S. Coffman.
It's worth noting that Rod has achieved the "hat trick" of industry awards, as an AMA Marketing Legend, a WOMMA Hall of Fame inductee and a member of the pantheon of MARKETING IMMORTALS.
Please spend some time with the links to both The Grandpa Project and the MARKETING IMMORTALS website to fully understand why Rod Brooks is indeed "a remarkable guy."                                                                             —LC