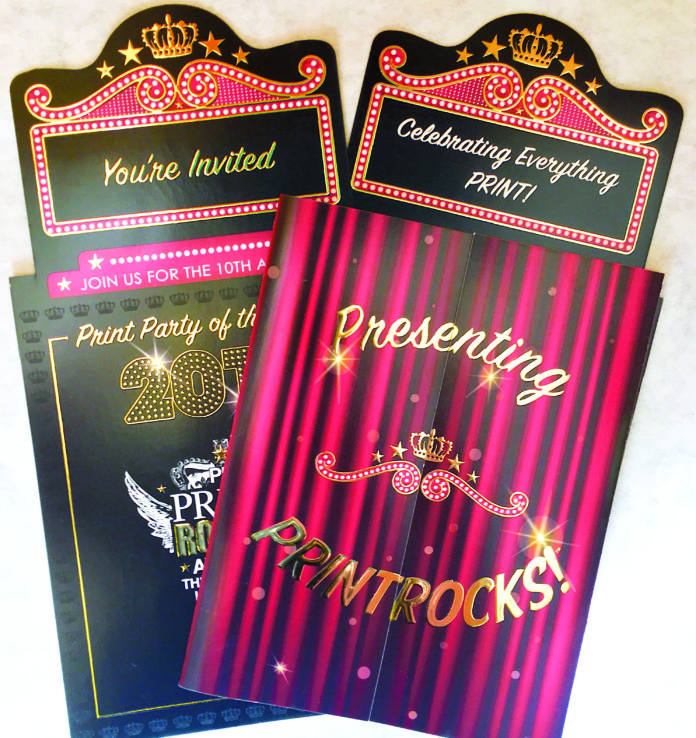 Friday, Sept. 22 is the date for what PPI is billing as "The  Print Party of the Year!" The 10th Annual soiree—highlighted by announcement of the 2017 PRINTROCKS! Awards winners—is being held at Hotel Murano in Tacoma.
Jules Van Sant, PPI executive director, said the competition received a record 210 entries from 40 companies in Washington, Oregon, Utah, Montana and Alaska. She said the four-member judging team was "extremely impressed with the quality, craftsmanship and innovation shown in this year's entries."
The program also will include announcement of the new Hickey Picker inductees and  the winner of the 2nd annual Printastic Educator Award, as well as a raffle aimed at raising $25,000 for the program to inspire students and lobby educational institutions to view print as a viable career path and help create tomorrow's workforce in the region.
Prospective attendees received glossy, gate-fold invitations with a personalized insert (see example above). Both were embossed and had gold-foil enhancements.
Go to ppiassociation.org for further details and tickets. Hotel Murano is at 1320 Broadway, just north of the Tacoma Dome. The event will run from 5:30 to 11pm.