By Larry Coffman
Swag Sisters: Thea & Maggie Harnish are ready to help you dispose of those promotional items that became obsolete when you rebranded your company—or someone else's.
The West Seattle elementary schoolers have turned their hobby into a "green business" by helping organizations get rid of their old merchandise in an environmentally friendly way—and aiding others in the process.
Says Thea, 8 (above in photo): "We refurbish, recycle and donate partial proceeds from the sale of promotional items that companies can no longer use." Adds Maggie, 6: "We started crafting with these items and then selling them to raise money for non-profits."
The repurposed items they sell range in price from 25 cents to $3 each. They say anything plastic, metal or with a hard surface is ideal. Shipping or delivery are the only costs to a company that donates unusable promotional item.
The girls' first sale generated money for trail improvements in British Columbia and their proceeds from the recent craft fair at Lafayette Elementary were donated to the school's PTA. They're not making any profit thus far because they've had to buy crafting materials. "Even if I save just a little bit, Thea said, "my mom says it will help pay for college books."
If you have items to donate, please visit the website at theaandmaggie.wordpress.com or like them on facebook.
---
Kudos, Ken: In his final column in Advertising Age before transitioning to his new career as a novelist, editor Ken Wheaton offered "a few words of advice" on a half-dozen topics.
One of them tackled a subject that's seldom mentioned in polite marcomm circles—the fact that advertising agencies, by an large, don't advertise! In a sub-section headed "Practice What You Preach," Wheaton wrote:
"This one's for the advertising agencies out there. And this one is something I don't harp on because it could come off as self-serving. But now that I'm out the door, let me ask, 'Why aren't you advertising?'
"I'll allow New York-based Barker to skip this question, because I've seen their advertising. Sure, it's out-of-home instead of, I don't know, print. But it's an agency putting its money and its work where its mouth is.
"More of you should be doing it. Forget the money, the resources and the excuses. Doesn't it strike you as odd that you're selling your clients on a service that so many of you don't use yourselves? 'Eh, we don't need that, we got PR' isn't exactly a ringing endorsement of what you do…"
Even if it was a parting shot, kudos to Ken for having the cojones to broach the subject in the bible of the ad-biz. His uncommon candor also gives me the opportunity to say a sincere "thank-you" to those local ad agencies that are long-standing regular advertisers in this publication: Copacino+Fujikado (Jim Copacino), BlackWing Creative (Gary Meyers), Williams•Helde (Marc Williams) and Jones Advertising (Mark Jones)…
---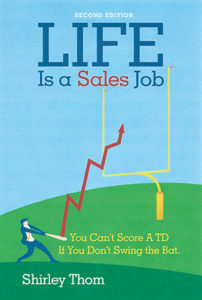 Sales Success: Good friend Shirley Thom is in the second printing of her self-published book titled, Life Is a Sales Job. It borrows heavily from her long and successful career in sales—especially local radio-advertising sales.
Shirley shares this sales tip: "Those of us who've been in the ad game for decades are sometimes lulled into thinking we know everything there is about who does what, and why. We should know better. Our greatest success stories begin with the words, "Tell me…"
To learn more about the changing world of sales and marketing, this second edition will be available for sale at Amazon.com and Kindle and at selected retail outlets, beginning in January. It's also available via the Book Store Special Element on the homepage.
---