On the set of "The All Griffey Team" shoot. Copacino, Ken Griffey Jr. and Kevin Martinez.
---
Which Is Your Favorite? The Seattle Mariners have posted their four new 2017 TV spots, created by Copacino + Fujikado, at seattlemariners.com. Vote at Question Of The Week!
By Jim Copacino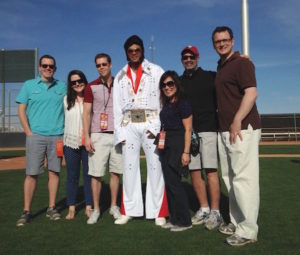 In a business where client-agency relationships have the lifespan of Hollywood marriages, 2017 marks my 27th consecutive season of working with the Seattle Mariners. As a lifelong baseball fan, it's been a fortunate combination of professional and personal passions.
Beginning in 1990 at now-defunct Livingston & Co., the partnership has endured through three agencies and three different team ownership groups—producing countless Mariners print ads, radio spots, online messages, billboards and brochures. But the centerpiece of our efforts has been the annual series of TV commercials starring the players.
Knife-Throwing and Bad Ballet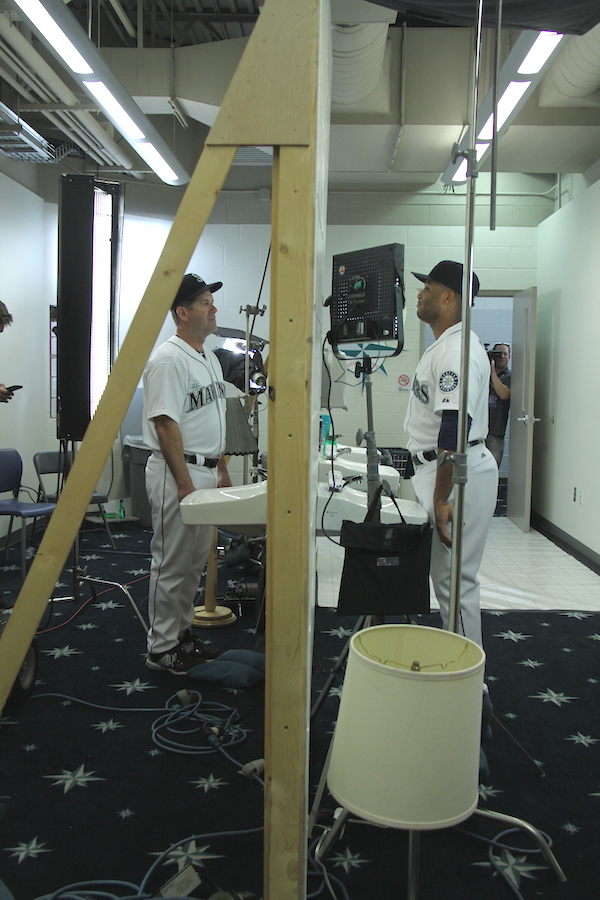 Our breakthrough came in 1994 with a campaign entitled "Aren't You Glad They Play For The Mariners Instead?" It was based on the premise that baseball skills don't transfer well to other professions. We depicted Randy Johnson as a carnival knife-thrower with control problems; Lou Pinella as a demanding, unsympathetic therapist; Jay Buhner as a hard-nosed, unfunny stand-up comic. The ads were a hit and the player TV tradition was born.
One concept that year featured burly pitcher Chris Bosio as an inept, tutu-clad ballet dancer. When we pitched the idea to Chris (a very nice guy), a scowl replaced his smile. He tore the storyboard in half, saying "I'll do a commercial for you, but not this one!" (We had to scramble to come up with a new idea overnight: Bosio as a dentist who doesn't feel his patients' pain.) But we learned a valuable lesson: humor should never come at a player's expense.
The Envelope, Please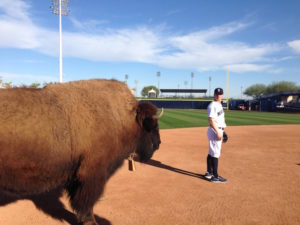 A few years ago, Root Sports asked fans to vote for their all-time favorite Mariners spot. The winner: Jay Buhner distracting a batter by reflecting sunlight off of his shaved head. My personal favorite has Edgar Martinez teaching a group of Latino rookies Seattle-style English. ("I took my geoduck to Puyallup.") Some other noteworthy performances from the 136 spots we've produced to date:
Best Actor: Logan Morrison convincing Nelson Cruz that Fernando Rodney's pantomimed "victory arrow" is real.
Best Foreign Language Film: Jamie Moyer's "Ooh-La-La" when he lights up a radar gun from France that registers his pitches in kilometers vs. miles per hour.
Best Musical: Kyle Seager playing third base, backed by heavy metal band "Hawt Corner."
Best Adaptation of a Classic: Alex Rodriguez executing The Hidden Shakespeare Trick—lulling a baserunner off guard by reading from The Merchant of Venice.
Best Special Effects: Edgar Martinez opening Safeco Field's roof with his car clicker.
Best Hair & Makeup: Felix Hernandez' hugely popular alter ego "Larry Bernandez."
Best Ensemble: Ken Griffey Jr. clones playing every position—even snow cone vendor.
Best Solo Performance: Ichiro blasting a deep fly ball, then sprinting to centerfield in time to catch it.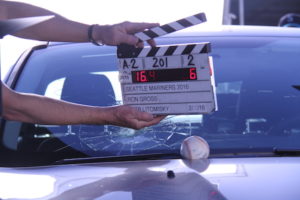 In 2009, we produced the 100th commercial featuring players, prompting marketing VP Kevin Martinez to schedule two "Classic Mariners TV Commercials" promotions. The first night, fans were given a DVD of commercials 1-50. On the second night, they received commercials 51-100.  Long lines stretched outside Safeco Field before both games as ticketholders arrived early for the limited supply of DVDs—perhaps the only time in human history when people have stood in line to watch TV commercials.
At this year's annual FanFest last month, a popular attraction was the "Mariners Silver Screen." Fans crowded into a mini-theatre, decorated with props from the video shoots, to watch a retrospective of Mariners commercials.
Is all this attention the result of our brilliant creativity? Not really. Sure, we've had some good ideas. But the bulk of the credit goes to the Mariners' marketing savvy. By being consistent, focused—and recognizing that fans love to see the lighter side of professional athletes—they've turned the annual unveiling of the commercials into a valuable property that is amplified through social and earned media, effectively extending the ad buy (Now that's creative.)
A Team Sport
Over the years, an all-star team of Seattle creatives has contributed to this body of work: John Schofield, Matt McCain, Lonnie Weiss, Kurt Reifschneider, Andy Corbett, Ben Steele and Joe Gerlitz, to name a few. In recent years, Mike Hayward, Andrew Gall and Andy Westbrock have taken the lead, with award-winning results.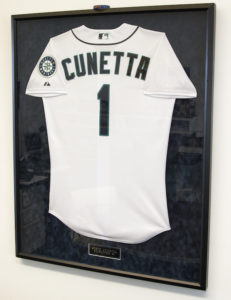 Then there was Steve Cunetta. A rabid basefall fan and beloved colleague. Steve was irrepressible, funny and totally committed to promoting the Seattle Mariners. He oversaw the account for nearly 20 years before succumbing to cancer in 2013. Steve's framed Mariners jersey occupies a place of honor in our office.
We've enjoyed an extraordinary partnership with Blue Goose Productions. Ron Gross has been brilliant, directing every single commercial, with Bill Hoare as his talented producer.
The Mariners marketing and communications leadership—Bob Aylward, Randy Adamack, Kevin Martinez, Gregg Greene and Mandy Lincoln—are what terrific clients should be: smart, creative and loyal. (They always have our back, and occasionally kick our butt.)
One of the beauties of baseball is that it has no clock or tie scores. In theory, a game can last forever. I wish the privilege and joy of creating Mariners advertising could go on forever, as well.
Jim Copacino is the co-principal and chief creative officer at Copacino + Fujikado. You can contact him at jcopacino@copacino.com. Cover credit: Todd Hofmeister of Copacino + Fujikado.