Regular readers of MARKETING newspaper no doubt noticed some big differences in the first issue of 2017—beginning with the "look."
All the headline typefaces were changed from the long-standing Helvetica, as was the body type, where the familiar Times font was replaced by Minion Pro.  And we'll continue to keep the type size and leading at easily readable levels—especially for the aging in our audience (which includes me!).
An even bigger change is giving over Page 1 to a giant graphic (pictured above), illustrating the lead feature story. It replaces the normal news items, which now are all on this website, and will be capsuled in the WebWrap.
Our Page 1 features, going forward, will allow marcomm pros to "toot their own horn" to a greater degree than in the past. As a first example, who can argue against letting Tim Girvin boast about his long list of movie-title graphics, and related design work, in this initial issue in the new format?
Articles with a strong graphics component also will be given preference on the inside pages, along with attention to more magazine-like page layouts (thanks to daughter Melissa's long magazine experience). NEWSMAKERS, hands down our most popular editorial element over the years, will continue in virtually the same format, as will my NEED TO KNOW column and Don Riggs' Radio & TV column. Only the type styles are different.
These changes in the four regular bi-monthly issues this year (Jan./Feb.; March/April; May/June; Sept./Oct.) all are a precursor of things to come in 2018. The July/Aug. and Nov./Dec. special issues will be glossy and saddle-stitched (think Advertising Age). July/Aug. will contain the MARKETING Award winners, and the Nov./Dec. issue will introduce the new 2018 MARKETING ATLAS format, which is still in the planning stage.
Then, in 2018, the format will go all-glossy, like the two special issues of 2017, and the transition from a newsprint tabloid to the glossy format will be complete. It still is undecided whether the frequency will be bi-monthly or quarterly.
A big part of the "new" MARKETING is its closer ties with the website. The aforementioned WebWrap will include attention to the unique Special Elements, which are designed to make the website "must-visit" on a regular basis by the marcomm community. Also, advertising that appears in the print edition will be posted in a web-compatible format on the website for the first time.
Finally, all contributors to the paper and the website will be encouraged to extend the impact of their contributions through social media, like never before…                      —LC
P.S. To get a complimentary subscription to MARKETING newspaper, email your name and mailing address to larrycoffman@frontier.com.
---
FEEDBACK
Pub Note: Response to the Nov./Dec. retrospective issue has been gratifying. Following is a sampling of the emails and cards I've received. Copies of the issue are available by emailing your request and mailing address to larrycoffman@frontier.com. The  articles also are posted at marketingnw.com.   —L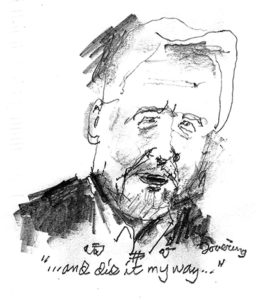 Looking at the retrospective issue of MARKETING,  I was surprised to see my photo on Page 2. That I could rise to the level to be included in your 30-year reminiscence astonished me. What an honor. I was so moved that I did a sketch of you, adding how you always "did things your way." As I've mentioned before, I know you could be outspoken on issues, such as the Kingdome, yet you always found a way to say something nice about people you wrote about. That has always impressed me…         —Howard Lovering
I enjoyed reading about your new plans in the latest issue and am glad you'll…still be involved. I also enjoyed reading the history you detailed, especially seeing Mogs' (Mike Mogelgaard) name show up so much. Just so you know, Ralph Fascitelli was my business parter at Imagio. He and I co-founded the agency and sold it together to JWT. JWT was great, but the bubble burst. As did we. Ten years ago I partnered with the three founders of 206inc (now 206Agency) as the CD… and we were acquired two years ago by Advantage Solutions. I've stayed on with my partner, Mike Salvadore, and we're still going strong. Hope you enjoy your new role and that your daughter lets you out on the golf course now and then.         —Tad Harmon
I just read the retrospective issue (and) I want to congratulate you on 30 years. It's an amazing accomplishment for any business to post a 30-year tag on their business and you've done it with such enthusiasm, style, compassion and grace. I started Sunrise Media 37 years ago this coming January… it's been a fun ride for a long time and, like you but unlike so many others, I'm not retiring either…       – Linda Wilson
Little did you know that the pages of MARKETING would become the journal-of-record for our little corner of the marcomm world. Loved reading the memories from 1986-2016 and felt honored to be included. Mahalo nui loa!     – David Horsfall
Gorgeous. amazing Nov./Dec issue! A "Remarkable" Thirty Years indeed… Thanks for all of your work on behalf of all of us in these crazy marketing-related industries. You have been the true communicator of the joys and sorrows and wins and losses. I join so many who are proud to call you "my friend."       – Mimi Kirsch
Your recent multi-page remeniscences were so fabulous I couldn't put the paper down! Lots of those players stopped in at IL Bistro restaurant  in the Pike Place Market, where I went to hang out. .. I always enjoyed the energetic company… what a great and historic time, before all the national attention. Thanks!           – Billy King