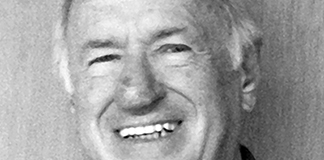 By Don Riggs
Let me add my own reminisces of Stan Boreson, who died from a stroke at age 91. First: I kept my accordion in the news studio at KMPS, in case a little "Lady of Spain" was needed, and because my music-loving wife didn't want it around the house. (Go ahead with all the accordion jokes. I've heard most of them…'"My definition of a gentleman is a man who can play accordion…but doesn't"…et al…I had similar cartoons on the newsroom door.) Stan would come around to the KMPS morning show a couple of times a year, just to hang out. We had threatened an accordion squeeze-off, but thankfully that never happened, mainly because I wasn't very good at it. He would regale us with hilarious stories about the early days of live television…KING's Klubhouse was on the air from 1954 to 1967…and break into his own brand of songs. I was happy to see him busy in retirement, hosting train travel trips to the Scandahoovian heartland in America, joined by his wife of 64 years, Barbara. Many people will have many things to say about Stan. My contribution: whenever I thought about him, I smiled.
Opining On Current Events
Being a media person any more is not for wimps. Attacks are coming from several sides. The Seattle Times used its pages to explain the economic issues facing the print press. That's why they shut down some local papers they own, including the 107-year-old Issaquah Press and other Eastside papers. They took no pictures of them being on bended knee, but they did beg for subscriptions, a key factor in their success. A worry for many of us is the declining coverage of small-town and suburban news. The "big boys" often don't seem to want to provide it. KING-TV is promising to increase coverage of stories outside of Seattle. Nice thought. I'd like to be able to hold them to it. Those of us who live outside of Seattle (it's Issaquah for me) deserve to know what's happening right at our city hall or in the next block. Preferably from a professional, independent source, rather than a blog with an agenda.
The other challenge is coming from our new President's administration. We are told that Press Secretary Sean Spicer used "alternative facts." He has to have one of the most frustrating jobs around, trying to explain or excuse his boss. The President has proven to be incredibly thin-skinned when it comes to any criticism he sees as personal, which seems to be most of them. He has instituted press blackouts for many departments. Tell me that's a good thing. We're 33 years after 1984, the title and setting of the 1949 George Orwell book on "newspeak" and other ways of "future" life. And parts of it are now looking too real. It's no wonder that sales of the book have spiked recently. If you voted for the President, be happy that you're getting at least some of what you wanted. If you did not vote for him, try to feel good in the knowledge that some of your worst fears are being realized, and you can say "I told you so." It'll be a(n) __(fill in the blank__) four years.
Plug pulled on Northwest Cable News. The defenestration of KING continues, with the silencing of Northwest Cable News on Jan. 6. For just over 20 years, company stations in Seattle, Portland, Spokane and Boise combined efforts to broadcast news to all those cities—from its Seattle newsroom. It was a worthwile effort, now ended by low ratings and expiring cable contracts. About 20 people worked there; many will find work elsewhere in the company.
Also gone from KING is weathercaster Mary Lee, part of the earlier-mentioned dream team of Leigh, Li and Lee. She was there about three years.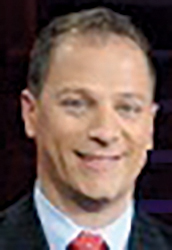 And Steve Bunin has joined KING to co-anchor mornings with Joyce Taylor, owner of the greatest smile in television.Bunin is a Seattle native, fresh off hosting a radio talk show in Houston.
The Circa is in town. Watchers of KOMO-TV newscasts may have noticed reports from something called "Circa." Who? What? Circa was a mobile news app that was failing, until rescued by Sinclair Broadcasting, owner of KOMO and 172 other TV stations. Circa promises "compelling news and entertainment content shot entirely in virtual reality." If that doesn't excite you, I don't know what will.
Behind the curtain. It's said you don't want to know how hot dogs are made, just enjoy them. Somehow, I can equate that to broadcsting. You don't have to see how it's being done to enjoy it. So why, my friend Bill asks, are they doing just that? He's talking about all the local TV programs showing, for instance, a wide shot of the news set as the weather reporter walks from the anchor desk to the weather wall, or when they go to commercial, showing the floor director or a camera showing a picture of what you're watching. The "magic of broadcasting" is being undone before our very eyes. And there are those, like Bill, who don't like it. I guess the only thing worse would be if the anchor was roaming the set introducing a story on how hot dogs are made.

Whither—and yon. Ryan Yamamoto has moved from weekends to morning anchor at KOMO-TV… Former Q13 reporter Tina Patel has hit the bigger time, now morning anchor at KCAL in Los Angeles… Former KIRO-TV weather chief Sam Argier is now on KVVU, Las Vegas… Lisa Decker, who was my last manager at KMPS, has taken over running Alpha Media's stations in Portland… "The Outlaw" Pat Garrett has left KMPS after four years as afternoon jock and music director. He also voice-tracks afternoons on KEGA  in Salt Lake City. David Dean is Garrett's replacement at KMPS.


He most recently was at KMLE in Phoenix and has worked at Orlando and in L.A… Heidi May has joined KMPS. She has been on the air at various stations around town over the last 25 years… Greg Bilte is the new boss at KIRO-TV. The graduate of Eastern Washington University (Go Eagles!) started his career at KXLY in Spokane, spent time in LA and the Bay area and came here from Tulsa… Dan Parsigehi is I-Heart's new director of regional creative services for stations in Seattle, Portland and Phoenix, where he'll be working. He's been PD for Clear Channel and Entercom stations… Matthew Waggoner, senior executive producer of news and sports at KCPQ 13, which sounds really important, has been promoted to assistant news director.
Classy. The 2016 National Radio Hall of Fame inductees include Seattle-based syndicator talker Delilah, along with other notables like Steve Harvey and Michael Savage. Good company to be in. But, wait, there's more… Delilah's show has been been added to the Armed Forces Network lineup, so you can listen to her in Asia and Central Europe now. (Way back when, I was heard in much of Asia as an all-night disc jockey on what was then an AFRTS station. Yeah, we sometimes mixed up the the first two letters when we answered the phone. Tee hee.)
Sell it! KIRO-TV Consumer Reporter Jesse Jones went big time briefly, meaning a story of his made it to CBS This Morning. It was a version of his team's investigation into sales practices at Office Depot stores in Washington and Oregon. They found efforts in several stores to upsell unneeded products and services. Some employees told of big pressure to reach sales goals. The company, of course, says shame on those few guys, and say they're working to end that sort of thing. Yes, it's OK to wonder if they do their banking at Wells Fargo.
Off again. The last three owners I worked for were one, sort-a…CBS, then merged with Viacom, then spun off as CBS. So I noted earlier that once again they were considering merging. And my head was hurting. Now, Sumner and Shari Redstone, the top guns in this, are saying the merger is off…the time's just not right. And my head is hurting more.
For Matt? Music stations continue to narrow the range of their music, buying particular formats that play particular artists or types. And they've got names. Travel the country, and you'll hear much the same on stations promoted as "Kiss", or "Bob", or "Hank", or "Star", or "Magic," or whatever. Add to the mix: "Ben" and "Tony". "Ben," started at KLTW in Bend, Oregon, will play "whatever." Begun at a station in Utica, New York, "Tony" promises the "play everything." Saying, "you'll never know what's next," they promise to play songs nobody else is playing. Is that a key to success? We'll find out. As of this writing, no station here had picked up Tony or Ben.
D-O-AM. A relatively unknown group…okay, nobody's ever heard of it…the Multicultural Media, Telecom and Internet Council, has asked the FCC to "create a glide path" toward the eventual decommissioning of the AM radio band. They say it's dying anyway, so let's make it easier. AM radio owners, surprise, disagree, pointing out that four of the top ten earners in the country are AM stations. You might recall TV was going to kill radio, FM was going to kill AM, and the internet was going to kill all of broadcasting. Fortunately, I'm at a stage where I think I can safely say "not in my lifetime."
Chi-town. Ho-hum. Brooke and Jubal have added another station to cover just about the last piece of the country they're not heard in. In Chicago, catch them mornings on WSHE-FM.
SPortland. Keep track of Seattle sports when you visit Portland. Brock and Salk are in town. Mike Salk and Brock Huard's KIRO sports talk show is being aired in Portland 9-noon by Alpha Media's KXTG AM/FM (The Game). And, the company has signed up to carry Mariners baseball.
Two KJR-AM personalities are on Radio Ink Magazine's list of Best Local Sports Talkers in America. Mitch Levy is 16th and Dave "Softy" Mahler comes in at 25.
Biting the Big Apple. I-Heart has moved Joe Blum, air name: Brady, from nights at KPWK, Seattle, to nights at WHTZ, Newark, NJ, marketed to New York City as Z100. To add to the prestige of a 10 PM-2 AM shift, they've tossed in the job of music coordinator. I'm not sure what that title means, but Brady calls it "a dream come true."
Also power-less…Kwame Dankwa, who was assistant program director at KPWK Power 93.3—until the day he came to work and found that job no longer existed.
Contracted. On-air people who chafe at the thought of non-compete contracts may want to thank Amanda Rollen. She left a station in Indiana where she had a six-month non-compete…not at all uncommon…and went to work across town at another station later the same month. Cumulus, her former employer, sued her and Hoosier, the new employer. And lost! The judge ruled that Cumulus had not shown any evidence of monetary or ratings loss, and that "any harm…is speculative at best." The downside for the air person, of course, is admitting you weren't really that important after all. Major harm to the ego.
A lonesome job. There's more good news from the Radio-Television News Directors' Association about radio newsroom staffing, unless you're trying to convince somebody to try that for a living. Not much change in the last few years, with the median radio newsroom staffing at one. (Yes, I was that "one" for my last few years at KMPS.) And, the typical radio news director handles news on 2.4 stations. (Yes, I did news for two in the CBS cluster for a while.) You put numbers like that into a city like ours, with a few full-time or almost full-time news operations with large staffs, that means there are however many stations with even less than one.
TV New Stats. About half the TV newsrooms actually are adding staff, although not by much. Total TV newsroom employment in the country is just shy of 28,000. An exception is Sinclair Broadcasting, which just cut 56 jobs nationwide, including 10 at KOMO-TV. The Problem Solvers unit has been cut, with reporters Jon Humbert and Tracy Vedder and producer Kelly Just out the door. And Michelle Esteban is returning to general assignment reporting.
It's always greener. As marijuana becomes legal in more states, broadcasters are looking at ads in the papers, and saying "hey, we wouldn't mind a little of that action."  But, it's a tough call. Inside Radio.com did a series of stories, quoting, among others, the very busy Keith Shipman, president of both the Washington State and Oregon Association of Broadcasters. He's urging stations not to jump in just yet, pointing out that marijuana is not a legal substance in the eyes of the Feds, and broadcasters are still licensed by that same Federal government. True, enforcement has been negligible, but it's also true there's been frustratingly little guidance offered, or expected, from the FCC. On the other hand, Marc Scott, who owns a couple of stations in Colorado, is doubling down. He's not only taking the ad money at KSBV and KAYV, he's thinking about going into the marijuana-growing business on the side. That, he suggests, is where the real money is.
Doing the twist. The bah-humbuggers were out in Killington, VT, this past holiday season. The country station there, WJEN, lost a couple of advertisers after playing Bob Rivers' Twisted Christmas. That first came out in 1990, and has become somewhat of a seasonal classic since. But attorney Chris Larson was "horrified" by it, and cancelled his advertising on the station. So did car dealer Pat Loughan, after admitting the song "probably was less offensive a while ago." Inside Radio reported other people, mere listeners, not advertisers, suggested the recording was freedom of expression, freedom of speech, and that not everybody has to agree on everything. Except that.
How new? Words I hate to hear on morning news, and hear too often: "New this morning….the Mayor said yesterday…" Does that mean you missed it last night? Or you just want us to think everything is new?
As long as I'm griping: two words I don't like hearing together; 'and also.."  Redundant? You can say that again.
Lowe down. The more ancient among us remember the novelty song from the late '50s, "Green Door," no relation to the subsequent adult film. The record (that's what they were, then) was the creation of New York disc jockey Jim Lowe. Call it a good career. He jocked at WNEW, WCBS and WNBC. That's the big time. Lowe died recently, at 93. Call it a good life.
---
You can contact Don at donriggs@hotmail.com.