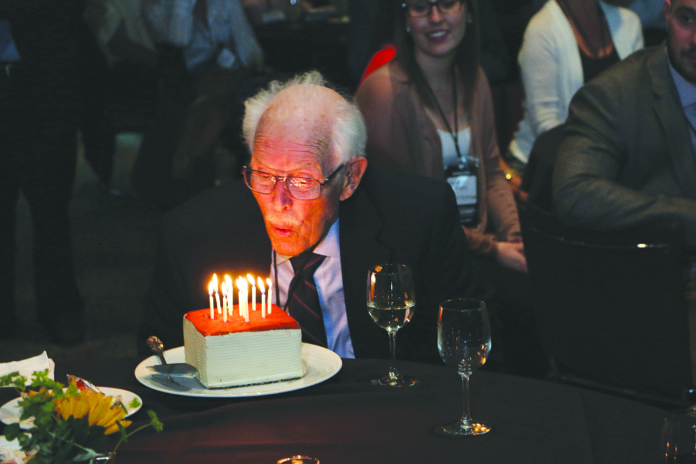 George Albert Bayless, Jr., born to Edna Elston and George Albert Bayless, Sr., in Seattle, passed away peacefully at his home in Eagle Crest, OR, on Oct. 2 at age 92.
He grew up in West Seattle  where he attended Gatewood Grade School, West Seattle Junior High and graduated from West Seattle High School in 1943. He was a member of the Order of DeMolay and a Sea Scout, laying the foundation for his life-long love of all things maritime.
George joined the U.S. Navy in August of 1943, serving as a Seabee on Adak Island in the Bering Sea and Okinawa during World War II. He received an honorable discharge in 1946 and enrolled at the University of Washington, where he graduated with a degree in Business Administration in 1949.
He joined the family business after graduation and purchased Bayless Bindery from his father in 1971. Bayless Bindery grew to 100 employees from its early days on Wall Street in Seattle to a 45,000-square-foot building in Renton. In 1995, he retired after 55 years in the graphic arts industry and sold the bindery to his sons, Bob and Tip, who changed the name of the business to Puget Bindery, which operates now from a facility in Kent.
George was a 45-year member of Rotary International and served as president of both the Seattle Club of Printing House Craftsmen and the Washington-Alaska Printing Industry Association (W-APIA). He was named Printer of the Year by both organizations and received the prestigious Ben Franklin Award from the W-APIA. He also was a charter inductee into the IMMORTALS pantheon, sponsored by MARKETING, in which he was the first advertiser in 1986.
Pursuing his deep interest in maritime, George served on the boards of the Puget Sound Maritime Historical Society and the Northwest Seaport. He was chairman of restoration for the historic Foss Tug and lightship "Relief" vessels and was a life member of the U.S. Power Squadron and Seattle Navy League. He published the cruising and navigation books, Marine Atlas Vol. 1 and Vol. II, for nearly 40 years as well as a 500-page history of the Puget Sound ferry boat industry, dating back to the turn of the 20th century.
George is survived by his wife, Ann, sons Mike (Chris) Bayless, Bob (Robyn) Bayless and Tip (Anne) Bayless, stepchildren Rob (Anna) Jelderks, Derek (Marian) Jelderks and Victoria Jelderks, and his grandchildren Casey, Corey, Sam, Riley and Kristi, and Ann's grandchildren Ryan, Anthony, Michael, Rachel, Thomas, Ingrid, Claire Marie and William.
A Reception and Celebration of Life will be held from 2–4:30 p.m. on Sun., March 18 at the Museum of History and Industry in Seattle.
---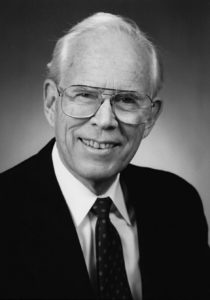 Thanks, George: I'll always have fond—and thankful—memories of that breakfast meeting at the old Dart Inn, a favorite South Lake Union pub, back in 1986 BA (Before Amazon). The office space I had leased, with the goal of starting a tabloid newspaper for the marcomm community, was just down the street from Bayless Bindery, presided over by George Bayless, Jr., the second-generation owner.
Because the printing industry was a primary target, the top bindery in town seemed a likely prospect for advertising. My very first of what would be thousands of sales calls some 30 years hence was to George, who agreed to meet for coffee at the Dart Inn. He bought the very first ad—a quarter page.
Most remarkable of all is that he—as well as sons Bob and Tip who succeeded him in the business—have had an ad in every issue of MARKETING since October, 1986!
When George's 90th birthday happened to fall on the same day as our MARKETING EVENT in May of 2016, I invited George and his wife, Ann, to be our special guests. At one point we presented him with a birthday cake and invited him to the stage to say a few words. 
In introducing George, I cited his remarkable advertising record in MARKETING and. as I turned to welcome him to the mic, he quipped (in typical George style and out of earshot of  others), "What did you do with all that money?"
That evening we also happened to have the 30 annual volumes of the newspaper (all bound by George or his sons) on display for the attendees to peruse. I only chuckled in reply to his question, but what I should have done—in hindsight—was take George back to that display and thank him, yet again, for his pivotal role in making those volumes possible, as well as his wise and welcome counsel on many occasions.
People remember their "firsts" of a variety of life events, and making a first sale as a rookie publisher certainly is on that list for me. What I remember most from our coffee date was George's positive attitude about my prospects for success, although he knew little about me. And I also remember how much his and his sons' sustained support meant—through the good and as well as the lean times.
As an octogenarian, the passing of good friends comes with the territory, although you never get used to it and a wave of sadness is inevitable. That was triply true when I received an email on Oct. 5 from Ann that told me of George's passing. My heart was heavy—and remains so—for this man who played such an important part in the success of my business over three decades.                                                          —Larry Coffman