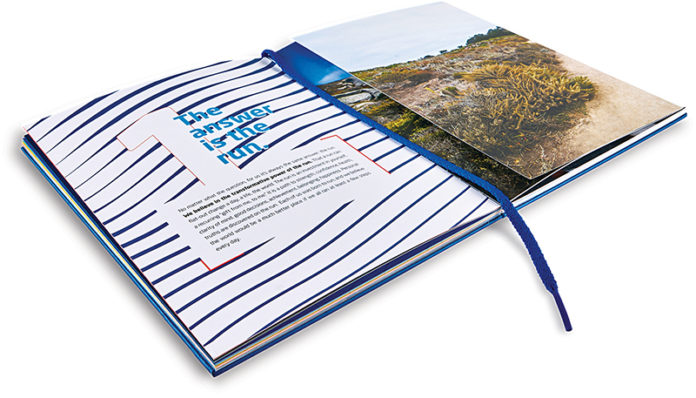 ColorGraphics took Best of Show honors at PPI's 10th annual PrintROCKS! awards gala on Sept. 22 at Hotel Murano in Tacoma for the complex  Brooks Running Belief Book, shown at right.
The People's Choice Award went to PrintWest for its 2017 PrintWest calendar. The Woodinville-based shop also won Best of Division (21-50 employees) and 10 Best of Category Awards.
PPI received 210 entries from 40 companies in its six-state region and Utah. ED Jules Van Sant said, "This year's entries raised the bar, as enhanced technology and techniques expand traditional capabilities. The excellent examples of web, offset, digital and large-format printing, along with folds, dies and finishing treatments challenged the panel of judges."
Nine printing industry pros from Washington and Oregon were in this year's class of Hickey Picker honorees, joining the ranks of 175 past awardees. Washington recipients of the coveted purple-sashed medal included Bob and Tip Bayless of Puget Bindery, Pat Detmer and Fred Canada of The Quincy Group, Chris Hansch of WCP Solutions, Mike Snyder of Spicer's Paper, Anders Viklund of Ricoh and Skip Novakovich of Esprit Graphics. The lone Oregonian in the class was Jeremy Fararra of Premier Press in Portland.
"The Hickey Picker Award was established in 1975 to recognize those in the industry who have earned a reputation deserving of recognition," Van Sant explained. "They're the champions of print with a keen eye for what it takes to deliver quality and service, while setting the gold standard for leadership."
Bob Bracht, the CG account exec for the Brooks Running Best of Show piece, offered some insight on the special project. He said:
"When I first saw the complexity of the thumbnails, not only was I stumped, but so was my estimating team. For example, the shingled section after the page that reads, 'Why We Run' and the diecut section with the topographic-style map. Each page had to be cut out very thin to make it work…
"All in all, this project was the most difficult I've encountered in my 31 years in the business. But with the expert help of all four partners involved—my ColorGraphics team and Seattle Bindery, NW Book and Puget Bindery—we created a memorable keepsake that all Brooks Running employees are very, very proud of."
You can see all the award winners at www.printrocks.org.