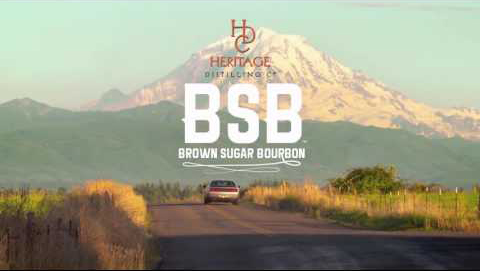 Few TV commercials have garnered more gripes from the local creative community than the current spot for BSB Bourbon that runs on ROOT-TV during Mariners games.
The spot is reminiscent (many say "a ripoff") of the memorable "Rainnneeerbeer" commercial, created by Terry Heckler, that several years ago was named the Best TV Spot in the history of Seattle advertising, in a contest conducted by David Horsfall.
The shifting of motorcycle gears has been replaced by the sound of shifting gears in a vintage sedan as it wends its way down a country road with Mt. Rainier in the background, also similar to the beloved beer spot.
Local media veteran turned super-blogger Bill Knudsen did something about it in an email to  Heritage Distilling Co. Bill wrote:
"I've spent my entire career in advertising. And in 45 years I have never seen a more blatant ripoff of another advertising campaign than your total ripoff of the iconic Rainier Beer commercial you're running in the Mariners games. It's despicable, and you should be ashamed.
"Don't you have an ounce of creativity in your company? Are you so lazy that you can't even come up with your own ad campaign?…"
Here's the response from Justin Stiefel of Heritage Distilling, headquartered in Gig Harbor:
"Thank you for your email, Bill, and for noticing our ad.
"In our case, the original commercial you are referring to is now almost 40 years old. There are literally two generations of people who never saw the first ad in 1978, and many more who have moved here from other parts of the country who have no context for that ad. More than half of the 7.7 million people who currently live in Washington never saw or knew of that ad. The population has changed that much in the last 40 years.
"We decided to update it for a new category of product and to put our twist on it—a relaunched muscle car from the '70s but updated for this era. Many people who live in WA have been born here or moved here since the beer company left and moved to Wisconsin in 2003. If we were a beer company we would not have made the ad because that would have been lazy and cheesy. But, as a whiskey company, we felt the irony was striking for people who took the time to appreciate the nuances, so long as it was done properly.
"if you've spent 45 years in the advertising business then you know advertising is designed to do one of two things: 1) inform the public about a product, good or service, or 2) cause a discussion.
"Our ad is designed to cause a discussion. Old-school folks from WA will look at our ad and have some nostalgic thoughts (clearly some are stronger than others, as evidenced by your email). Others (younger people or people new to WA) will ask, 'What is that ad about'? Either way, it starts a conversation, which is all we wanted. And so your email helped prove our ad worked. Like it or hate it, it is getting noticed.
"Also, we consulted with the original crew that shot the ad in 1978 to inquire of their thoughts. They not only loved the idea, they assisted us in creating it.
"The ad has been running over one year now and the comments from the older WA folks who were here then have been very positive and they like the fact that we are paying homage to some WA heritage in a respectful way with an updated twist. We have noticed recently the beer company you referenced has been rerunning their old ad on the radio during Mariners games, perhaps seeing we have helped them to resurrect it.
"Thanks for reaching out. We appreciate your respectful comments."