By Mark Monlux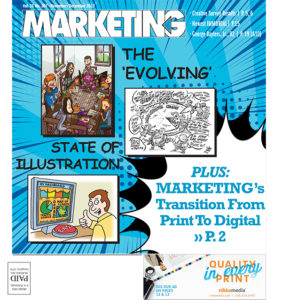 Long gone are the days when an illustrator could rely on a steady stream of projects from advertising agencies and graphic artists. It's no secret that a series of recessions has reduced the number of such sources.
Nor is it a secret that the Internet has significantly changed the marketplace from what it was even five years ago.
What has not changed is that successful illustrators still have their own unique styles, mindsets and skill sets and have learned to market those strengths in an ever-growing landscape of harsh competition.
The biggest problem illustrators face today, is that when the need for images arises, most folks immediately surf the Internet to see if a free image is readily available. Once a bread-and-butter source of income for illustrators, today's low-end clients are more concerned about budget than receiving an image tailored to their needs.
We've seen the result: a marketplace filled with schlock. In a world where mediocrity has become the norm, illustrators who want to stay in business must evolve—and tout—their competitive advantages. They must find ways to compete with the undercutting Internet and to produce work that can't be easily outsourced. And these capabilities need to be exposed to potential clients beyond agencies and graphic artists.
Live drawing is one of these unique offerings. You might be familiar with the idea of hiring an illustrator to develop a storyboard as your team and a client brainstorm ideas. With the input from the participants, the illustrator interprets the concepts and sets them to paper as quickly as they arise from the conversation.
And let's look at some other ways live drawing is being used, beyond the  storyboard application:
Graphic facilitation is where an illustrators captures a live discussion, be it a presentation, workshop or an interactive public setting, using a number of different techniques.
One is Sketchnoting, where the artist remains unobtrusive and captures the event on a sketchpad. Another is Graphic Recording, where the illustrator is near the front of the room while the speaker is presenting and the capture is made mural-style on a large piece of easel paper or whiteboard.
The illustrator, in effect, becomes a teacher, a public performer and a visual note-taker for the audience, all at the same time, while leading the group to discoveries and decisions.
All of these offerings require abilities well beyond just drawing. Knowledge of communication techniques, the ability to identify the thread of the discussion and the speed and confidence to capture the topics on paper as quickly as they arise all are valuable skills.
Speed is an especially import talent for the Event Painter. Concerts, weddings and conventions are perfect venues for this form of illustration. In a few short hours, the artist rapidly paints while  the event unfolds. This is both performance art and the production of a memento of a moment that will be fondly remembered forever by the participants.
The final product also is a marketing tool that can be used during the event to garner special attention, to reward attendees in some way or to be used in later promotions.
Sam Day, an illustrator and cartoonist who has a studio in Pioneer Square, has found Event Painting to be rewarding for his business. In fact, Sam displayed his skills at the May 25 Awards EVENT: the result was on the cover of the July/August edition of MARKETING. He also provided this explanation of how it all began:
"A groom called me at the last minute with the idea. He had made 75 phone calls in the week before his wedding, looking for someone to do a painting live, at his reception, and I got the job. Word of mouth got me my next several gigs, and it became my main revenue source over the next several years.
"I've now painted weddings coast-to-coast, from Cabo San Lucas to the Hamptons. I paint the venue setting or landscape before the guests arrive so I can paint the people into the particular scene while they watch. Besides weddings, I've also painted at corporate events, milestone birthdays and anniversaries and numerous live auctions," Sam said.
An unexpected gain that the Internet has created for illustrators is crowdsourcing. Through crowdsourcing, personal projects that previously were cost-prohibitive now have earning potential. Crowdsourcing removes the need to invest one's personal capital on a project's potential. Now its potential is determined immediately by the investment capital it receives online.
By advertising through the crowdsource portals, entirely new opportunities have opened themselves to the artist. Illustrators can keep their desks piled high creating their own dream projects. Their talents get recognized by other crowdsourcing entrepreneurs who desire the same look and feel for their projects.
I asked fellow illustrator James Stowe for his take on crowdsourced projects and this was his reply:
"As a funding resource for self-publishing, Kickstarter and other crowdsourcing sites are a wonderful boon to independent illustrators. Now, clients can have funding for projects they wouldn't normally be able to produce on their own. The trend toward self-publishing drives independent producers to create more artwork-heavy, professional-looking   projects, which creates more opportunities for illustrators who can break into that market."
The state of illustration is, in many, many ways, very much the same as it always has been. An ever-growing talent pool competes with an ever-growing marketplace, while budgets continue to shrink.
Illustrators still work on logos, packaging, books and the traditional media with which we're all familiar. But the business-savvy illustrators are evolving toward projects where their particular talents fit best, as well as to those for which they are uniquely—if not solely—qualified.
… And Some Illustrations Of Same!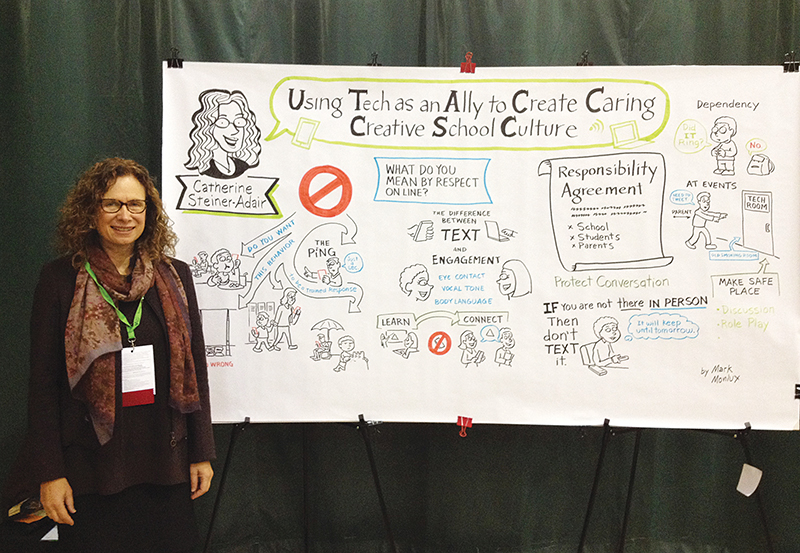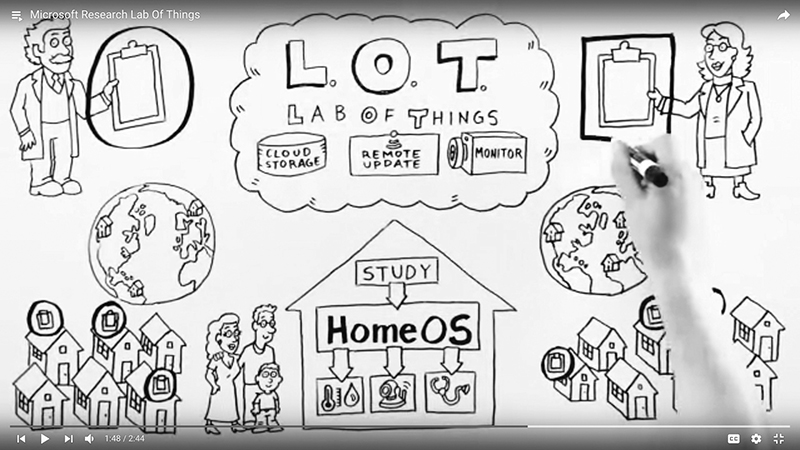 Above are Monlux's graphic recording of Catherine Steiner-Adair's presentation during the NW Association of Independent Schools Conference and a scene from a whiteboard video describing the Microsoft Lab Of Things software. Below are a pair of Day paintings. The first is one from a Bill & Melinda Gates Foundation holiday party and the second is one from the Boehme-Stewart wedding at Inglewood Country Club this year.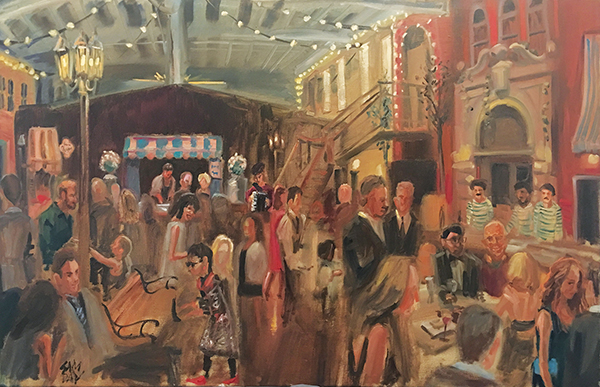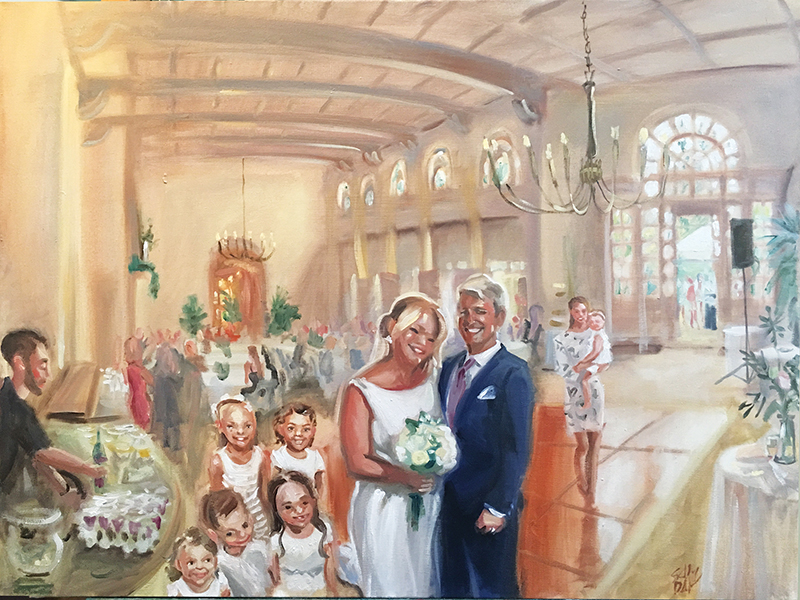 Below is James Stowe's box-cover art for the card game Schrodinger's Cats by Ninth Level Games.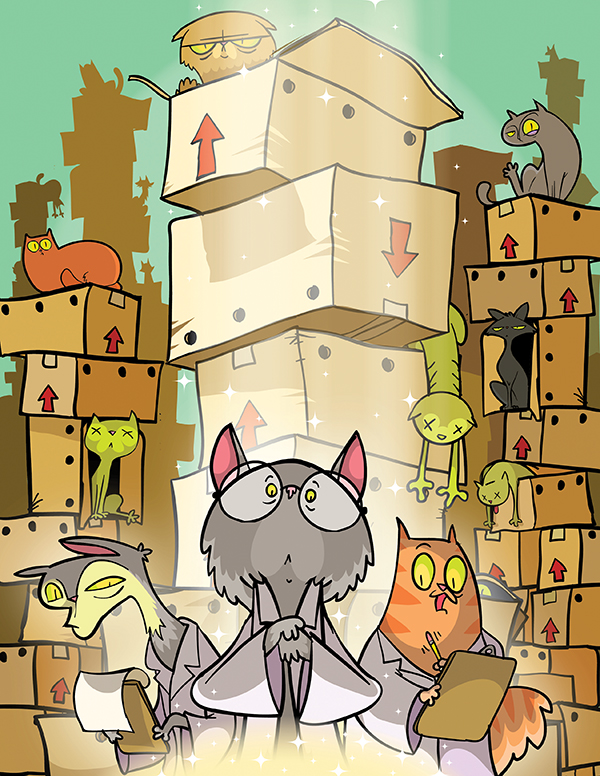 ---

Mark Monlux is an award-winning illustrator with a global clientele, including International Flavors and Fragrances, Toronto Dominion and Rockwell-Collins. See more of his work at www.markmonlux.com.