By Don Riggs
Raves For KIRO's 'Raibs'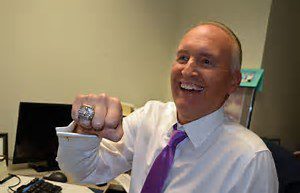 You don't stay in a job for many years unless you like it, or you're just plain lazy. I'd like to think I was the former for 33 years at KMPS, and now that record for longevity in one job has been beaten by Steve "Raibs" Raible. And KIRO-TV is rightly making a big deal out of his 35 years… and counting. When he joined the station, he'd just survived six years of being slapped around as a Seahawks wide receiver, following a successful collegiate football career at Georgia Tech. That led to his side job, broadcasting 'Hawks games on radio.
He's gonna need a bigger shelf for the honors he keeps receiving, topped by having May 4, 2005 proclaimed Steve Raible Day in the State by the then-governor. He's emceed numerous charity functions and written book about his pro-football days titled Tales from the Seahawks Sidelines. Congrats to my fellow MARKETING IMMORTAL and long-working friend.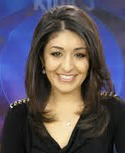 From A to Z. The international look of our area and our media continues.  Q13 has hired reporter Tatevik Aprikyan, who was born in Armenia and worked in Idaho before making the move farther west… Deedee Sun is new reporter at KING-TV, coming from Wichita. She was born in China and has Boston University degrees in Journalism and Economics. That way she can use what she learned from the latter to figure out how to get by on the salary from the former… and Tammy Matusa is now a reporter at KOMO-TV, after stints in Cincinnati and Dallas for NBC. She's a native of Zimbabwe.

Here and there. Emmy-winning reporter Henry Rosoff has left KIRO-TV after four years for KYW in Philadelphia… Another four-year KIRO-TV veteran,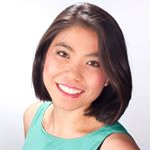 Natasha Chen, has joined CNN Newsource in Washington, D.C. as a reporter… KING-TV has added three new executive producers: Linda Evans, who worked at KOMO-TV and most recently at CTV in Vancouver, B.C.; Ruben Villaescusa, who's been with several stations in L.A.; and Neel Dhere, who returns from Jacksonville. Yes, there's some grumbling  from staff about going outside, instead of promoting from within… Josh Kerns has left KIRO-FM after 10 years as anchor and host to launch his own consultancy… Jason Rantz moves down the Entercom hall, from talking nights on KIRO Radio to talking mornings on KTTH.


Not forgotten. Sorry to report the passing Dick Cross, one of the favorite people I've shared air with. We were the morning team at KBES back in the mid-'70s. He also was heard on KOMO and KVI Radio, among others. He was a talented musician I enjoyed  jamming with, an avid boater and a collector of old cars—and mainly a lot of fun to be around.  Dick was 89… Les Habegger, another media favorite, as a basketball coach at SPU and with the Sonics, passed away in Spokane at age 92…You'll also find remembrances of Carol "Kingdome" Keaton and the cartooning weatherman, Bob Cram (see vintage photo above), both media favorites as well, on pages 10 and 11, respectively.
Sea-un-fair. Add this to the string of comments on KIRO-TV's coverage—or lack thereof—of the Seafair hydroplane races. You'll recall that they decided to dump live programming in favor of a 90-minute special recap of the day. What aired was a celebration of their staff mixing with the fans on the beach and logboom and footage of the Blue Angels (complete with music that didn't fit (The Sound of Silence!?. I don't think so). But that wasn't KIRO's doing.
I'm guessing the actual hydroplane race coverage was fewer than two minutes—the finishes of just two races. Their day-long live streaming from the race course, sans narrative and with random camera shots, was totally inadequate. I don't know the budget and ratings numbers involved, but let's hope this is a one-off and that next year, KIRO-TV, or somebody else, will step up and better serve the fans of Seafair's marquee event.

Rondeau's Replacement: The U-dub's new sports voice is Tony Castricone, taking over from Bob Rondeau on football and basketball play-by-play. Rondeau is tossing in the towel after this football season, capping 40 years at the job. Castricone's been broadcasting Clemson basketball for the last couple of seasons. He graduated from Ohio University and has been involved in broadcasting football at Ohio State, Michigan, Notre Dame and elsewhere. To get his name right: accent on the first and third syllable, long "o" and silent "e", or, just listen to the way he pronounces it.
Sinclair very clear. If you watch Boris Epshteyn's political commentaries on KOMO-TV, don't be surprised at a less-than-enthusiastic intro by the local anchor. Station owner Sinclair has ordered its stations to air the words of their corporate talker, a former Republican strategist. Earlier, the corporation ordered its stations to air a particular daily feature every day in a newscast. Sinclair is the only big-time owner of TV stations that issues these kinds of orders. No, the locals don't like it a bit. Rumors of griping have been making the rounds for a while now. Locals think they have a better feel for what the home folks want. This commentary directive will only ramp up such comments. But, we might not know, because of an even more recent order that says any contact with outside media should be handled "through proper channels."
Some of that "must air" material comes from Circa, a digital news service saved from belly-up-ness when Sinclair bought it. Circa is the kind of place where newly-minted reporters can get a start on their careers. That's the nicest and most positive way I can put it.
There's much more on Sinclair in the July 24th edition of Bloomberg Businessweek. The headline set the tone: "The Sinclair revolution will be televised. It'll just have low production values." It points out the company's inherent..uh…thriftiness, and Chairman David Smith's introduction meeting with KOMO staff. He made no points by referring to popular and respected Manager Janene Graf as "little lady." Then, he gifted the staff with pricy coffee machines, later complained they were drinking too much coffee, and took the machines away. Can you do anything worse to your Seattle employees? Let's hope he doesn't take that as a challenge.
Broadcast media in Texas were at their best covering Hurricane Harvey, but Sinclair had a tougher time than most. Three TV stations were knocked off the air, in Corpus Christi and Beaumont, all three owned by Sinclair.
The latest wrinkle in the Sinclair-Tribune deal may come from Fox. That company says it's thinking about yanking its affiliation from several stations now owned by Tribune, including KCPQ channel 13 here. And Fox is looking at a "joint venture" with ION Media, which owns KWPX channel 33 here. There can be little doubt all this is intended to bring us a better viewing experience.
Weather X 3. A glitch-free television newscast is the goal, but not yet all that common. However, I heard one sentence that should never be heard on TV. (Not in this market, by the way.) The anchor doing the weather wanted to show a shot of the sunrise, but was forced to say "we don't have that tower cam up…" Should have stopped there. No big deal…happens often. Then came the rest of the sentence, the part that does not belong in a picture-dependent medium…."but you can imagine what it looks like." Yes, we can, so who needs you?
On the other hand, a "way to go" award to KOMO-TV morning weatherman Seth Wayne, filling in on a 4 PM newscast, and finding his weather computer dead….just blank screens behind him. He grabbed a nearby pad of paper, scrawled a picture of sunshine and a temperature number, held it in front of him and came in for a close-up. Brilliantly fast on his feet. Reminds of the long-ago video of KIRO clown J.P.Patches knocking all the magnetic numbers off Harry Wappler's weather board.
KOMO weekend anchor Lee Stoll seems to have a good sense of humor, the kind that sometimes sneaks in even when she may not be trying. With a sunny shot of our great outdoors on the screen, she said maybe through the haze we couldn't see Mt. Rainier. "But it's still there. If it wasn't, we'd let you know." I took a lot of comfort in that, as I actually laughed out loud.
Public ears. Last time out, we learned from blogger Ken Mills that NPR stations were doing well thanks to politics, but otherwise in danger of floundering. Because we obviously need it, here's more research, this time from Coleman Insights, a small branding company located, according to the map I saw, just down the block from the UPS Freight station in Morrisville, North Carolina. They tell us radio listeners "do not have a high level of awareness of the (Public Radio) category." Can't say about Morrisville or any other ville, but not so here in Seattle. KUOW continues nudging the top in the ratings. KNKX is near the middle, but still in the top half. You do know, I presume, that those are both Public Radio stations, meaning the paid announcements of sponsorship are a little less jarring than the commercials on…uh…commercial stations. There will be further studies.
Where the money goes. BIA-Kelsey is an outfit that follows the money, seeing where local advertising dollars go. They're going a little less to radio. Direct Mail is still the top earner, about $33 billion a year spent there. That's 25% of the local ad money. Local TV gets about 14% of it, then online, newspaper and mobile, all at around 11%. Radio moved down a notch getting about 10%. Total local spending should hit just under $148 billion this year, down a little from earlier guesstimates.
Nielsen-Neilson. It's a little troubling to think that our three big network TV news people do something that seems a little sneaky. Inside Radio.com reports when the managers realize an event like sports or holidays may cut into their ratings, they purposely misspell a program name…"Nitely News" instead of "Nightly News," or "Wrld News Tonight," or "Evening Nws." You don't see it, but it apparently fools the Nielsen automated system, so the expected lower ratings don't affect the overall numbers for a regular program. Some ad agencies aren't comfortable trying to explain this to clients. I don't want to think any actual news people are involved in that decision.
Cowboy love. The Nielsen ratings people say the Country Music format is still the most popular, for the eighth year. They show 13.6% of all radio listeners want their Garth. (Okay, I'll admit being out of touch with this week's hottest new country stars.)
OTYs. The National Association of Broadcasters is handing out annual awards in many categories in Austin, Texas. The five nominees in Large Market Station of the Year category include Hubbard's KQMV, Movin' 92 in Seattle. Alas, none of our great air personalities were nominated.

Raise seven million bucks in five months, and somebody will notice. The Public Radio Association of Development Officers did, awarding "of the Year" honors to KNKX's Mary Dunaway, for reaching into all those pockets to save what was then KPLU from the clutches of KUOW.
Baywatch. KBAI AM-FM in Bellingham has dumped liberal talk for a classic hits format that invites you to "re-live your favorites every day." The station is owned by Cascade Radio Group, which owns most of the other radio stations in town.
Deep in the heart. You might not have noticed that Seattle-based talk queen Delilah has been missing from the San Antonio market. Heck, she even might not have noticed, being on about 150 stations. But, she's back, now on KQXT-FM. I-Heart's regional manager calls her a perfect fit for the station.
Calling it done. Some of the Northwest broadcast geezerati joined to celebrate Red Robinson calling it a career in Vancouver, B.C. He's been on the air there since 1954. Among those crossing the border to see and be seen, our own IMMORTAL Pat O'Day.
Out of date. It's embarrassing when well-paid minds make bad decisions. Just ask Sacramento CBS country station KNCI. It had a personal appearance scheduled for new country star Lindsay Ell. Then, they learned that she was dating syndicated jock Bobby Bones, whose show was on competitor KBEB. So, because of that, they cancelled her appearance. And, they've spent just about every moment since apologizing and admitting just how stupid that decision was.
Blue. The FCC is looking into expanding the so-called Blue Alert network, which tells the public, and police, about any violence and continuing threat against police. Similar to Amber Alerts for missing kids, or Silver Alerts for missing older folks. Ours is one of 27 states that already has a Blue system, in place here since 2012. Florida was first, in 2008.
Rising higher. Most of my career was spent working mornings. Two big benefits: traffic and parking. So maybe the morning teams at Entercom's stations here, KKWF, KHTP, KISW and KNDD, will adjust easily. For the rest of the staff, welcome also to your new home on the 14th floor of the Bank of America tower, right in the heart of downtown. Start heading for work…now.
Clarion call. More awards for KING-TV's Investigative unit. Susannah Frame's team has picked up the National Clarion Award from the Association for Women in Communications, for a series on civil rights violations of people with disabilities. This was one of 82 awards from the group.
Give a hoot. Owls are thought to be wise. Same for some ad creators, several of whom came up with the same great idea at around the same time. That may be why we now see TV ads for Trip Advisor, America's Best Optical, allergy-fighter Xyzal, and Western Governors University all featuring what the WGU spots even call Spokes-owls. Ducks and geckos are worried.