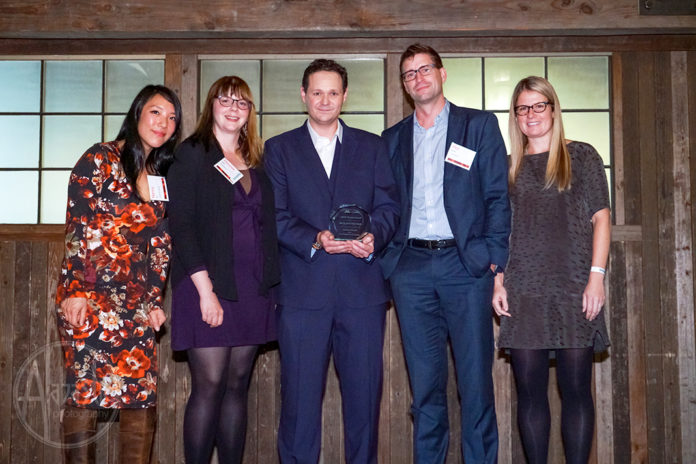 Hansen Belyea paced the field at the recent PSAMA Pulse Awards with a Best of Show and wins in three of the seven awards categories. One of the Pulse Awards was for its B2B marketing campaign for The Robbins Co. From left are Nancy Yun, Robbins marketing director, Desiree Willis, Robbins PR manager, Sloan Newman, emcee and past PSAMA president and Hansen Belyea principals Ron Hansen and Brianna Home. See full story at www.marketingnw.com.   Albastro Photography Photo
---
Hydrogen Advertising has hired Elaine Del Rosario as media coordinator and Matt Swecker as a copywriter. Elaine comes to the agency from Marchex, where she managed online marketing promotions. Matt was a cytogeneticist at the Seattle Cancer Care Alliance when he began attending creative classes at the School of Visual Concepts and decided to trade in his lab coat for a writer's laptop… Woodinville-based BDA, home of the bobbleheads,  has hired Christie Feliz as a national account manager and Stephen Koplan as a senior account manager. Christie will be responsible for driving new and increased business across the 30-team National Basketball Association. And Stephen will work to develop relationships with NBA corporate partners and sponsors, as well as the teams… Phinney Bischoff Design House has added four members to its design staff. They include senior designer Sachi Kuwabata, junior designers Evan Dull and Ciara Hylarides and project manager Kellee Bryan. Sachi and Evan were freelance designers and Ciara and Kellee joined as part of the recent alliance of PBDH and TRAY Creative…  Jason Gingold has joined Hornall Anderson as VP/strategy.  Jason's 15-year career includes working on brand strategies for blue- ribbon clients like Amazon, T-Mobile, HBO, ESPN, Starbucks, Microsoft, PepsiCo and Kraft. Before joining HA, he led strategie initiatives at Creature, WONGDOODY, Wieden+Kennedy, DDB and Nissan Corp.
PROJECTS

&PLACES
Speaking of Hornall Anderson, the agency had a big role producing a promotional livery design and microsite as part of Alaska Airlines' merger with Virgin America.
The ceremonial plane (above) flew a chartered course up and down the West Coast. The More to Love theme promised more flights, more rewards and more to love, artfully expressed through a flood of gradient color from nose to tail. Alaska's dominant blue and Virgin's dominant red unite in a vibrant purple, reflecting the magic that comes from the merger. The differentworks.com microsite addresses questions about the merger… PRR was a Platinum Award winner in the 2016 Summit Marketing Effectiveness Award competition for its Surprised by Shoreline campaign for the City of Shoreline. The campaign included market research, a microsite, a short mockumentary film and collateral marketing materials. The Summit awards recognized creative work that uses strategy and results-based effectiveness to create solutions in today's marketplace…Tyler Cartier of Strikeplate received an assignment from the PAC-12 Networks, based in San Francisco, to provide overall concepts, design and brand voice for its corporate BrandBook. The Networks' chief marketing officer cited the award-winning piece that Cartier created for the Space Needle as the reason for selecting his firm…Nikkomedia, in its Silver Anniversary year, has moved from Ballard to larger space near Fisherman's Terminal at 2525 W. Commodore Way in Seattle… Michael Courtney Design has received recognition from both Graphis and Graphic Design USA. The agency won a Silver and two Merit Awards for an interactive promotional piece, a cheeky 2016 Valentine's Day card (left above) for clients,  and a graphics system for the Washington State Convention Center (right above). respectively. Graphic Design USA awarded MCD two Certificates of Excellence for 2015 Thank You and 2016 Valentine mailers.