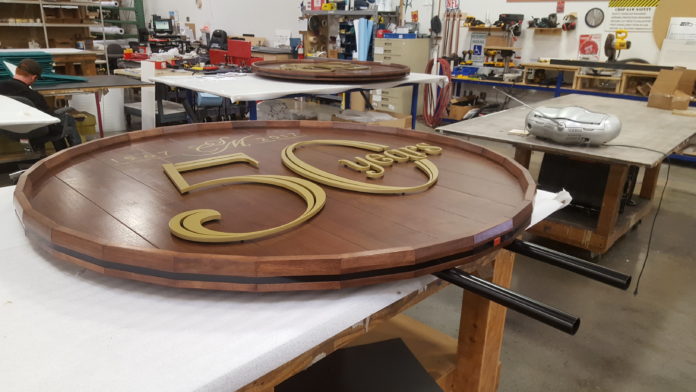 Art of the Month
Rainier Industries has completed work and installation of elements announcing Chateau Ste. Michelle winery's 50th Anniversary celebration at the entrance to its Woodinville estate. Visitors are greeted by two six-foot-diameter custom-made wine- barrel tops, emblazoned with the "50 years" in metallic numbers and letters. A total of 56 new 24×84-inch banners along the entry drive, pathways and parking areas add a touch of class throughout the grounds. Chateau Ste. Michelle is Washington State's oldest winery. It produces more than two million cases of Riesling wine per year, as well as Chardonnay, Cabernet and Merlot.

---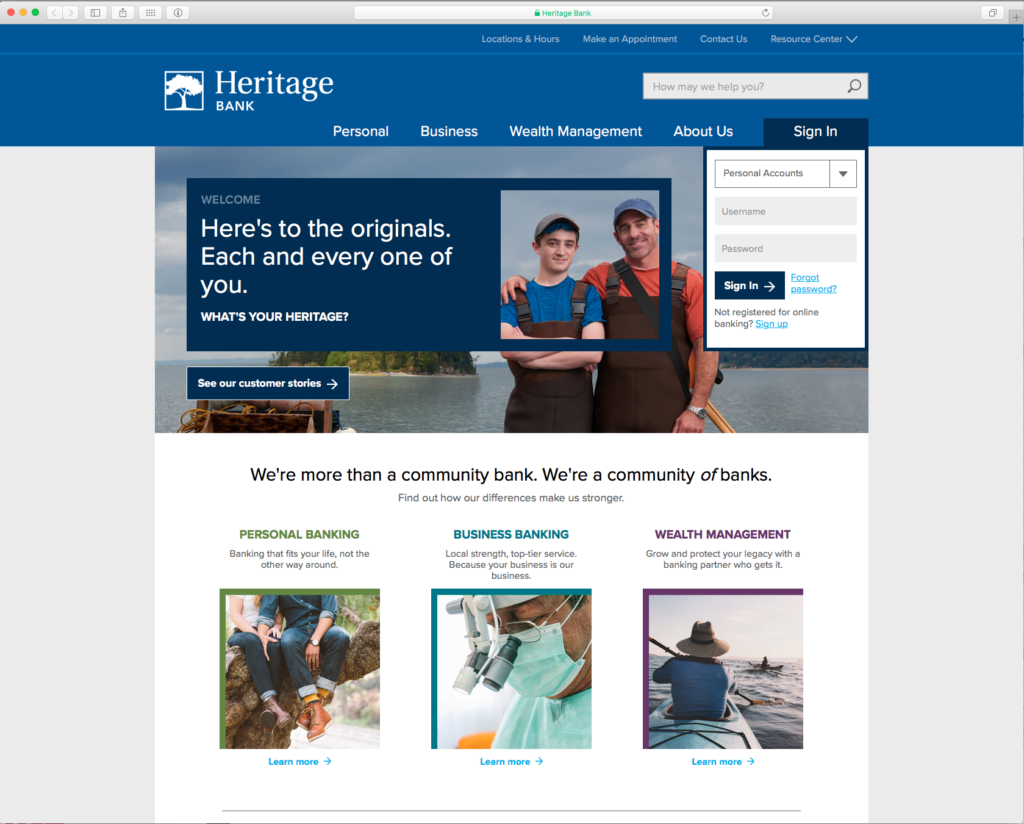 Hydrogen has created a new website for Heritage Bank, www.heritagebanknw.com, that offers a friendlier, easier banking experience for both current and prospective customers. It features responsive design, easy navigation for both business and personal banking and easy-to-peruse information on the banks loans and other financial services.
---
Kathy Sweyer, Fred Hutch marketing director, with on of the three first-place Big M's that the company received at THE EVENT on May 25… CMD group account director Randy Woloshin accepts one of the two Big M's awarded to his agency… Copacino+Fujikado account exec Emily Bishop with one of the show-leading four Big M's awarded to the agency…  Creative manager Lara Johannsen holds the Big M for Best Radio Campaign awarded to WONGDOODY…  Carey Evenson, director of creative strategy at C+C, with the Big M her agency won for Best PSA… Design director Lauren DiRusso with one of the two Big M's awarded to Hornall Anderson…  Sanford-Brown College advisor  Brandon Walker with one of two Big M's awarded his students… Freelancer Steffanie Lorig with the Big M she won for Best Illustration…  BrandQuery announced the hiring of Wendy Poischbeg as the new director of strategy. Here most recent position was as cultural and  economic development manager for Snohomish County… Purdie Rogers has promoted one staffer and hired two more. Scott Rockwell has been promoted from senior website developer to interactive director and the new hires are account manager Sheila Otter from Wunderman and TCS World Travel and public relations account coordinator Anne Lauzen, who previously worked for the American Childhood Cancer Organization Northwest… Voice and on-camera talent Jim Cissel has completed projects for Alaska USA Federal Credit Union, Orca Bay Direct, the Real Christmas Tree Association and promotional videos for Tripwire.