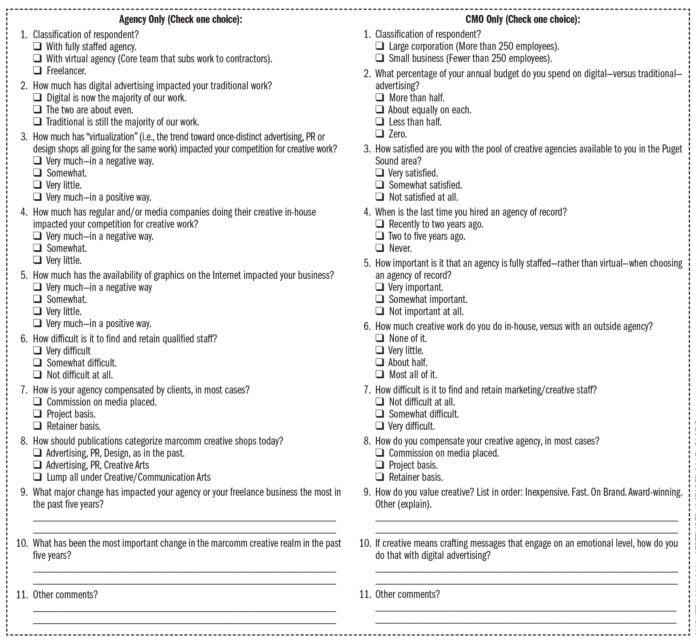 By Don Morgan

As indicated in the editorial on Page 2, there are some major changes occurring in the creative realm of the local marcomm community.
While much has been written in these pages about changes in this marcomm area—as well as printing and the media—this is an effort to get an overall view from the people who both produce and buy creative—defined as any work intended to brand, promote or sell a particular product or service. All responses are confidential.
You'll note that there are separate sections for the agencies that do creative work and the corporate CMOs who buy that work. The results should provide a perspective that's been missing in the discussions to date.
GMA Research is partnering with MARKETING to conduct this survey among subscribers to the newspaper and visitors to the www.marketingnw.com website. Results will appear in the Nov./Dec. issue.
Clip and mail the completed questionnaire from the newspaper to MARKETING, 13901 NE 175th St., Woodinville, WA 98072 or complete it online at www.gmaresearch.com/creativesurvey.
---
Don Morgan is the principal of GMA Research, based in Bellevue, which has been conducting surveys in the Puget Sound area and nationally for nearly 50 years. GMA clients include leading brands in the transportation, retail, technology, tourism, health care, banking and restaurant industries. You can contact him at dona@gmaresearch.com.