Pub. Note: There's lots of great blogging going on in the Internet realm—including in the Puget Sound region that is the primary focus of this site. This permanent feature will bring you the best of those blogs. [Email blogs for consideration to larrycoffman@frontier.com.]
We're fortunate to have one of the world's best bloggers in our midst, in the person of Bill Knudsen. After Bill won the Big M for Best Blog in the 2014 MARKETING Awards competition, we retired the category, rather than have him run away with it every year!
The first item below, leading off Bill's most recent blog (#925!), explains how he got started and took the readership from nine to 5,400 in no time. While it began as a Seattle Mariners tutorial, the subject matter is now as varied and delightfully unpredictable as the man himself. The content on the Mariners is particularly timely, as another baseball season approaches.
[A bit more background that his regular followers already know: Bill has been involved with the Seattle Mariners for the past 41 years—clear back to their inaugural year of 1967—most of those years in radio and TV ad sales and as a marketing consultant. That long tenure was highlighted by his six years as the M's VP/marketing & sales, from 1983 to 1989—during which he personally attended 567 games in a row.]
By Bill Knudsen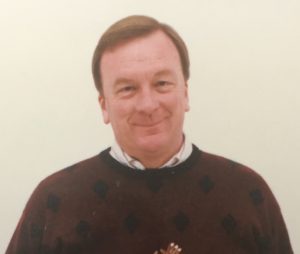 With the explosive  growth in readership of the Mariner Notebook recently, I've been asked several times how it got started?  So, I'll give you the "Cliff Notes" version. 
Eight years ago, I agreed to come out of retirement for a year to help my dear friend, Anna Shreve, sell Seattle Mariners airtime on KSTW-TV.  The station carried 35x games each season, was owned by CBS and was losing its as* due to a contract that cost CBS more than it was generating in ad revenue.  And having sold just about everything Mariners for over 30 years, I was more than qualified to help Anna.  So, I said, what the hell, let's do it.
As a "Mariner Specialist," I tried to both sell ad time in the 35x M's games, while simultaneously educating the sales staff on how to sell baseball (which is quite a bit different than selling "spot" television").  So, the Monday morning newsletter became part of that educational process.  Target audience at the time— nine sales people.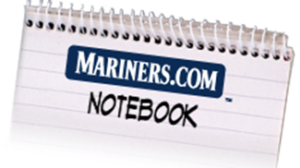 A year later, having sold $1,000,000.00 in new Mariners ad time, I re-retired.  But with the promise to the sales staff to keep the Mariner educational newsletter continually pumped out every Monday.  I also sent it to a few buddies and family, each of whom began sharing its contents with their families and friends.   Now we are eight years later, and the estimated weekly readership is 5,400 baseball/Mariners/sports fans around the world.  My farthest away reader used to live in Cartagena, Columbia.
I've also been asked often why I don't sell advertising in it?  The answer is that it's simply a labor of love.  I love the M's and I love baseball.  And if an advertiser was involved, I would lose my objectivity and my ability to say what I want.  I spend a ridiculous amount of time on this little weekly writing adventure.  But I do it to support my M's.  And because it keeps me involved with baseball.   Plus its fun…and… occasionally I get to vent. When it's no longer fun, I'm done!  GO MARINERS!
Bill Knudsen's Mariner Notebook, Issue #925: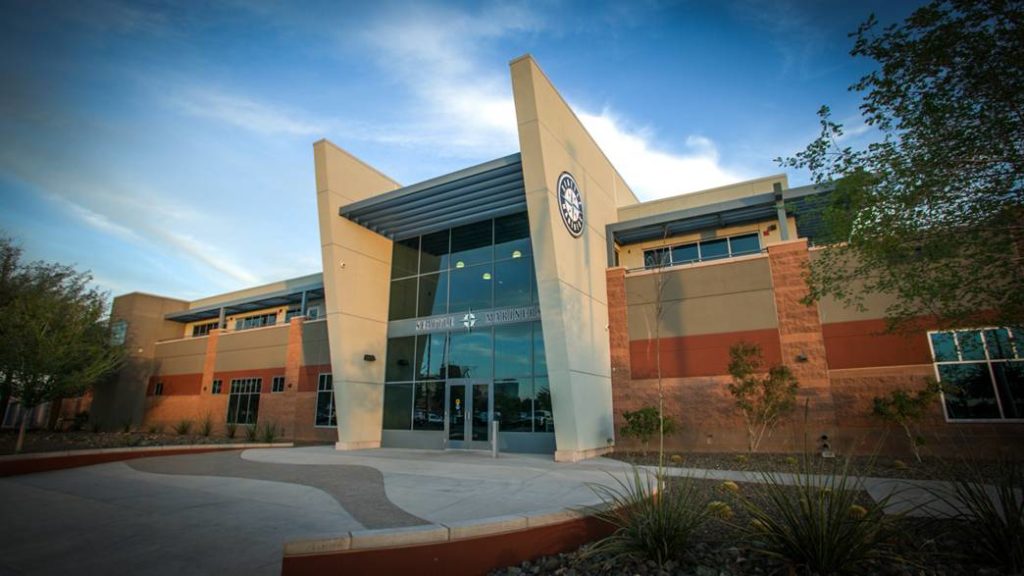 The beautiful new Mariner offices in Peoria, Arizona, just off Bell Road and the 101 Loop.
An Electronic Baseball  (and occasionally other stuff) Newsletter©All stats for Mariner Notebook are believed to be 100% accurate, as they are provided by the Mariners PR Department, MLB and Stats Inc. (Mariner Notebook is generally published twice weekly during the MLB baseball season, and when I get around to it during the off season.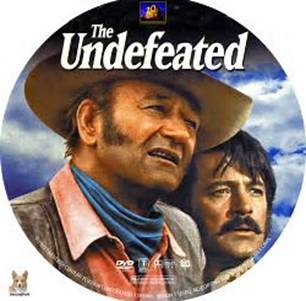 Editor's Note:  I am pleased to report that thus far in 2018 my Seattle Mariners are undefeated!  Just sayin…
Editorial:  Not that you would ever learn it from our two Seahawks-obsessed (OMG!) Sports radio stations here in the Pacific NW, but this has been one of the quietest off seasons in MLB history.  Clearly this winters "Hot Stove League" ain't been very hot! And with less than six weeks til spring training, no player has signed a deal longer than three years. There are many reasons:
• this particular class of free agents is pretty uninspiring
• last Winter's collective-bargaining agreement instituted stiffer penalties for teams that exceed the luxury tax threshold
• GM's are waiting out free agents in the hope of finding a bargain.
But most of all, next year's class of free agents looks historically tempting…Bryce Harper, Manny Machado, Josh Donaldson, Charlie Blackmon, all will hit the market at age 33, or younger.  And Clayton Kershaw, the best pitcher in baseball can opt out of his Dodger deal.  No team wants to spend money now, incur luxury tax penalties, and take themselves out of the game.  Teams are eyeballing players they really want, which are those available NEXT year. Once this season is completed, you can fire up that stove again, because NEXT year is gonna be red hot!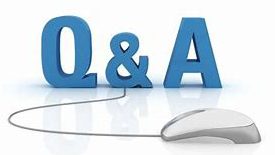 More M's Q & A:
Will the Mariners go to a six-man rotation?
They definitely are looking into the possibility, but only in parts of the season when they'd be playing long stretches of games without any days off. The new schedule has more off-days, so that will happen less now. But when there are stretches without a break (there are five spans of 10-plus consecutive games this coming season) they'll consider bringing up a starter from Triple-A Tacoma or going with a long man from the bullpen, in the right scenario.
The idea will be keeping starters like Felix Hernandez, James Paxton, Mike Leake and Erasmo Ramirez fresher and healthier, taking some of the innings and pressure off younger guys such as Marco Gonzales and Andrew Moore and allowing a guy like Ariel Miranda to pitch more effectively, whether he makes the rotation or rotates between Seattle and Tacoma.
What bench battles do you see playing out this Spring? And what about first-base scenarios?
If the Mariners go with an eight-man bullpen, as they'd like to do, that really leaves the bench competition pretty clear-cut. They'll need to identify a backup catcher from between Mike Marjama and David Freitas and a utility infielder between Taylor Motter, Andrew Romine and perhaps Gordon Beckham. The other question would seem to be whether Guillermo Heredia's shoulder is recovered in time to be the fourth outfielder. If not, that position would be up for grabs initially.
If they instead go with a seven-man bullpen, that opens up the possibility of a backup first baseman making the club behind Ryon Healy, with Rule 5 Draft pick Mike Ford and Daniel Vogelbach in the mix as left-handed complements to the righty-hitting Healy.
The Mariners' lineup seems strong, especially one through five. If the bottom of the order produces and the bullpen can pitch as well as it's capable of, is the starting rotation good enough for the Mariners to contend for the top Wild Card spot?
That's clearly the million-dollar question. It's worth remembering that the Mariners won 86 games in 2016, and everyone thought they'd be better last year until injuries decimated the rotation. And the Twins got the final Wild Card berth with 85 wins. In my estimation, Seattle now has a better lineup and bullpen. And while I'd like to see another starter added as well, I'm not as down on the rotation as most fans appear to be.
Clearly the Astros have the best rotation in the division (and arguably the American League). If you look at Baseball-Reference's WAR projections for 2018, the Angels have the second-best rotation, now that they've added Shohei Ohtani, with the Mariners a close third, the Rangers fourth and A's fifth. But the Angels' projected five starters were a combined 9-13 with a 4.50 ERA last year in 41 starts and have even more health questions than the Mariners.
Ohtani certainly should help, but he also has injury questions. And while Paxton has had a hard time staying healthy for a full season, the Angels' No. 1 starter, Garrett Richards, has pitched in just 12 games over the past two years, and their No. 3 starter, Andrew Heaney, has totaled six starts in two seasons. The Rangers have even more questions than the Mariners and Angels in their rotation and need work in the bullpen as well. So while I have questions about the Mariners' rotation, I don't think their pitching situation is quite as outmanned as the general perception.
With the Astros, Indians, Yankees, Red Sox and Angels all getting better this year, is it time to rebuild?
I guess it depends on your definition of "rebuild." General manager Jerry Dipoto has made 62 trades in 28 months since becoming general manager, and only eight players remain from the 40-man roster he inherited at the end of 2015. The Mariners had the oldest roster in MLB in '16—they had 12 players age 32 or older— but now are actually one of the younger teams in the AL, with just four players 32 or older.
A lot of rebuilding already has been done, and it's time to see how that younger core of 20-somethings—guys like Jean Segura, Mitch Haniger, Ben Gamel, Mike Zunino,Edwin Diaz, Paxton, Dee Gordon and Healy—can step up around the veteran holdovers of Robinson Cano, Nelson Cruz and Hernandez.
Do you think Miranda has a chance at a starting job after last season's struggles?
If things go to plan, I suspect Miranda will open the season with Tacoma. Of course, that was the plan last year as well, before injuries hit so hard that Miranda not only made the Opening Day roster, he wound up pitching the most innings of any Seattle starter, going 8-7 with a 5.12 ERA and 1.27 WHIP in 160 innings over 31 outings (29 starts).
While his ERA wasn't pretty, I think Miranda is quite capable of helping out—and likely will again at some point. Last year was his first as a full-time starter in the Majors, and he was 7-4 with a 3.82 ERA in 17 starts over the first three months before clearly wearing down and posting a 7.23 ERA in his last 14 appearances. Miranda is a quiet guy, but he's a pretty fierce competitor, and I wouldn't bet against him coming back and making some sort of impact this year.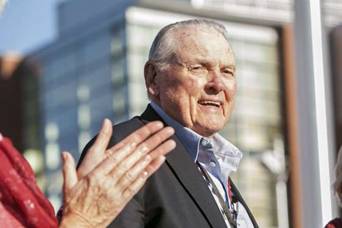 "Whoa Nellie"—we lost one of the greats this week.  Keith Jackson, the voice of college football for more than a half-century, has died. The ABC Sports broadcasting legend, and proud WSU Cougar was 89.
Jackson, forever remembered for his signature "Whoa, Nellie" call, died Friday night surrounded by his family, according to NBC Sports' Todd Harris.
"The voice of college football and so much more has left us," Harris wrote on Twitter Saturday morning. "Truly one of the greats in the broadcasting industry. I am grateful for my time with a true legend Thank you for the lessons KJ."
Jackson spent 56 years broadcasting college football, including 15 Rose Bowls. His final game before he retired was the 2006 thriller between USC and Texas at the famed game in Pasadena. It was Jackson who proclaimed the Rose Bowl "The Grandaddy of Them All." The stadiums TV and radio booths were renamed "The Keith Jackson Broadcast Center" in 2005.
Los Angeles Times columnist BillPlaschke wrote this about Jackson when he interviewed the legend a decade after he stepped away from the broadcast booth. "To hear him again is to be taken back to your childhood again, sitting in front of the television with a bologna sandwich and a Coke as the Saturday afternoon sun slowly sets on that lawn you just mowed, watching Bo and Woody and Bear come to life through a syrupy ballad that still sounds wonderfully like some kid breaking tackles and sprinting through a weed-choked field in rural nowhere."
Although Jackson will always be linked to his beloved college football, his career at ABC also included being the first Monday Night Football play-by-play announcer, a staple on Wide World of Sports and Olympics broadcasts. He also called NBA, MLB and college basketball games.
Kirk Herbstreit, the former Ohio State QB and current ESPN college football analyst, called Jackson the GOAT (Greatest of All Time) in a social media post Saturday. "Just heard the news that everyone's favorite CFB broadcaster Keith Jackson passed away last night. Can close my eyes and think of so many of his special calls. Thank you Keith for all the memories and the grace in which you provided them. RIP Keith," Herbstreit wrote.
Jackson also gave us the term "Big Uglies" for the offensive linemen who toil in the trenches and nicknamed Michigan Stadium "The Big House." 'We, too, are saddened to hear of (Jackson's passing)," the University of Michigan tweeted on its official athletics feed. "One of the greatest to ever do it."
Jackson, who was inducted into the Rose Bowl Hall of Fame in 1999, was also honored by both the American Sportscasters Association Hall of Fame (1994) and the National Sportscasters and Sportswriters Association Hall of Fame (1995).
A native of Georgia, Jackson served in the Marine Corps before attending Washington State University where the broadcast building was renamed in his honor in 2014.
"Incredibly saddened to hear the loss of a broadcasting legend, the voice of college football across the Country, and WSU Cougar great, Keith Jackson," his alma mater tweeted. "His impact will live on forever." "I want to be remembered as a good ol' boy who married a gorgeous lady and we had a great life together," Jackson told Plaschke in 2015. He will remembered for that and so much more.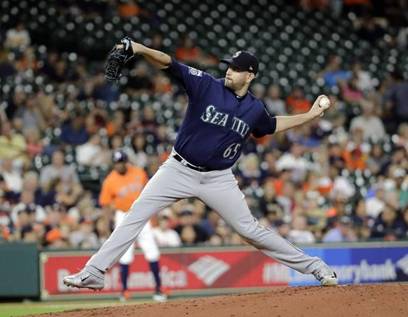 Mariners reach agreement with all five arbitration-eligible players, including James Paxton, David Phelps:  The Mariners are pretty good at avoiding this arbitration drama.
They again swept the board in reaching agreements with their arbitration-eligible players, signing all five before Friday's 10 a.m. deadline for both sides to exchange figures. It started Thursday afternoon when reports surfaced that catcher Mike Zunino and the Mariners agreed to a $2.98 million deal. And the team announced Friday morning that left-hander James Paxton, right-hander Erasmo Ramirez and relievers David Phelps and Nick Vincent had come to terms.
The Mariners confirmed the signings, but not the terms of the contracts, per club policy. But ESPN's Jerry Crasnick first reported Zunino's deal. Phelps agreed on a $5.5 million deal, according to Robert Murray of FanRagSports.com. And Paxton will earn $4.9 million this season, according to Bob Nightengale of USA Today. Salary numbers for Vincent and Ramirez had not yet been reported.
Paxton made $4.6 million last year when he went 12-5 with a 2.98 ERA in 24 starts, which included two trips to the disabled list with a left forearm strain and a strained left pectoral muscle. He dominated in July, going 6-0 with a 1.37 ERA with 46 strikeouts and six walks in six starts, becoming the first Mariners pitcher to win six games in a single month. Paxton made $519,000 the year before that, before becoming arbitration eligible.
Phelps, a right-handed reliever, came from the Marlins in a trade on July 20, finishing the season with 21 holds (tied for second-most among MLB relievers before first heading to the DL), a 3.40 ERA with 62 strikeouts and 26 walks in 54 combined appearances with the Mariners and Marlins. He also had two stops on the DL – with an impingement in his right elbow on Aug. 7 and a season-ending right elbow posterior impingement on Sept. 1. He had elbow surgery to remove a bone spur.
Vincent had the second-most holds (29) in Mariners history this past year, just behind Arthur Rhodes, who had 32 in 2001. He had a 3.20 ERA in 64 2/3 innings pitched with 50 strikeouts. The 31-year-old was the Mariners' most reliable reliever, leading the team's relievers in games and ERA and was second in innings. Only Twins reliever Taylor Rogers had more holds (30) than Vincent this past season.
Ramirez returned to the Mariners from the Rays in exchange for right-hander Steve Cishek on July 28. In 11 starts, he was 1-3 with a 3.92 ERA and is generally viewed to be slated in the bottom half of the Mariners starting rotation for the upcoming season.
Here's how arbitration works:
Players with at least three but less than six years of major league service time are eligible, as well as the top 22% of players with at least two, but less than three, years of major league service time, provided the player had at least 86 days of service in the previous season.
Arbitration-eligible players can file for salary arbitration, which means the player and the organization each submit a salary figure and they continue to negotiate until the case goes before a three-person panel of professional arbitrators, who award the player a one-year, non-guaranteed contract at one salary or the other.
Let's get something straight, folks: The most shocking development of this Hot Stove season has not been the relatively slow pace. Rather, it's that Mariners general manager Jerry Dipoto has now gone nearly an entire month without making a trade.
Dipoto has not made a trade since Dec. 13, and while we eagerly await his next inevitable swap, we decided to take a look back at Dipoto's roughly 28 months as GM of the Mariners, and see how his trading frenzies stack up against his front office peers. So: just how exactly did Jerry Dipoto earn his nickname of "Trader Jerry?"
Let's take a look: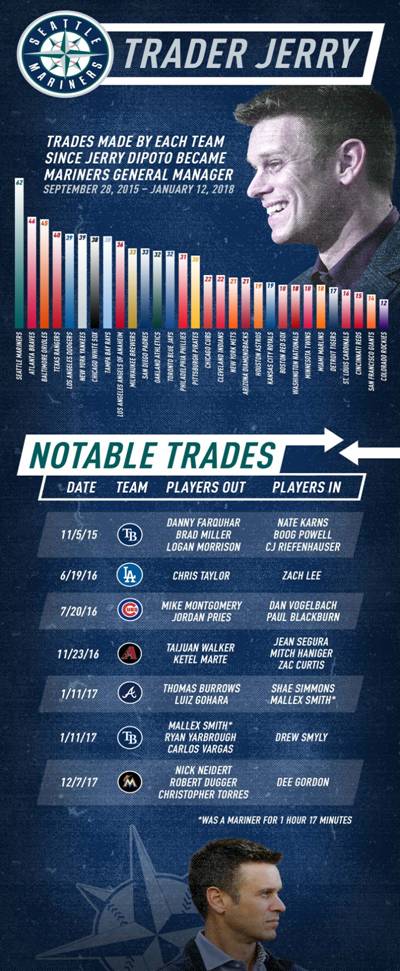 Trader Jerry indeed!
Now that we understand the extent to which Dipoto has blown away the competition when it comes to trades, let's take a closer look at his remarkable history of player movement.
• Since becoming the Mariners GM at the end of the 2015 season, Dipoto has made more than 60 trades with 22 (!) different teams.
• Dipoto's most common trade partners have been the Rays (8 trades), the A's and Dodgers (5 trades apiece) and the Braves, Orioles and Rangers (4 trades apiece).
• Dipoto has made it no secret of his affinity for trading with Tampa Bay. On Episode 5 of his podcast, The Wheelhouse—which is a thing he also somehow has time to do between transactions—in response to a question about how teams interact at the Winter Meetings, Dipoto joked: "I just hang out in the corner with the Rays guys and we make trades."
• There are only seven teams remaining who have yet to make a trade with Jerry Dipoto. Those teams are:  The Angels, Astros, Mets, Nationals, Reds, Rockies and Tigers.
• There are two players who Dipoto has traded away, and then re-acquired via trade: Patrick Kivlehan and Minor League left-hander Anthony Misiewicz.
• Mallex Smith was a Seattle Mariner for a little over an hour. Wait, what? Smith was acquired from Atlanta and then shipped off to Tampa Bay before he could even say "I'm so happy to be a Mari-"
• Jerry Dipoto has made at least one trade in every month except October. But that's no surprise—trades in October are extremely rare across baseball.
• And finally: The trades completed by Jerry Dipoto have involved 129 different players. That is patently absurd! You could make three entire 40-man rosters with players traded for or away by Jerry Dipoto!
Here's to you, Jerry Dipoto. May you continue to complete trades as freely and frequently as you have since Day 1 in Seattle.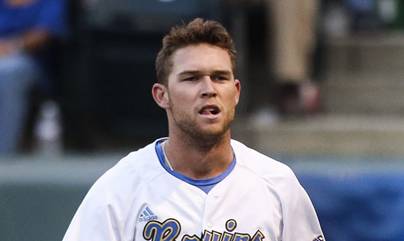 Every organization, no matter what industry they're in, has a dumbass, or two.The M's resident dumbass is named Eric Filia.  Eric possesses a million dollar bat, and a .10¢ brain.
The Office of the Commissioner of Baseball announced Friday that Mariners minor league outfielder Eric Filia has been suspended 50 games, following a second positive test for a drug of abuse. Filia, who finished last season at High-A Modesto, is currently on the Double-A Arkansas roster.
The team released the following statement: "The Seattle Mariners are disappointed that Eric Filia has violated the terms Major League Baseball's Joint Drug Prevention and Treatment Program. Or organization fully supports the Program and its efforts. Per the Basic Agreement, the Mariners will have no further comment."
Rated as the No. 21 prospect in the Mariners organization, Filia took the Arizona Fall League batting title, hitting .408/.483/.605 in 22 games. While spring training rosters have yet to be announced, it was assumed that performance was expected to earn him an invite to big league camp.
The 50-game suspension without pay will be effective at the start of the Texas League season.  Argh!