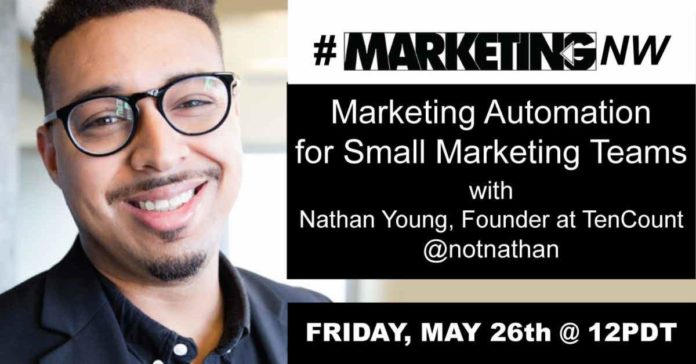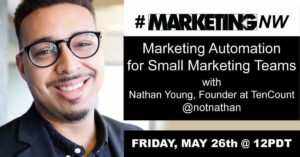 Friday, May 26 28, Noon – 1 p.m.
Guest: Nathan Young
Founder at Tencount.co
@notnathan
Topic: Marketing Automation for Small Teams
---
Tweetchat FAQ
Source: Forbes.com (http://www.forbes.com/sites/stevecooper/2013/09/30/the-ultimate-guide-to-hosting-a-tweet-chat/#768cc4e764b3)
What is a tweet chat?
A tweet chat is a live Twitter event, usually moderated and focused around a general topic. To filter all the chatter on Twitter into a single conversation a hashtag is used. A set time is also established so that the moderator, guest or host is available to engage in the conversation.
How do you participate?
To participate, all you need to do is tweet during the designated time using the conversation hashtag. It's also possible to just follow the conversation by searching the hashtag without engaging—but what fun is that?
Tweetchat Tools
We recommend Tweetdeck.com as a way to participate! It's a tool that allows you login with your twitter account, and have several twitter streams up at the same time. Our preference is to have a column for the #MarketingNW hashtag, and another column for Replies so you can reply to people who are interacting with the site. Learn more about Tweetdeck here: http://mashable.com/2013/11/07/tweetdeck-beginners-guide/#Tlx60ZRQWuqc